Mini Language Sessions with Pace International Continues
Pace University International Students and Scholars (ISS) held its third online mini-language sessions through Zoom. In the third meeting of the newly-developed event, students had the opportunity to learn select letters from the Mandarin alphabet, phrases and idioms.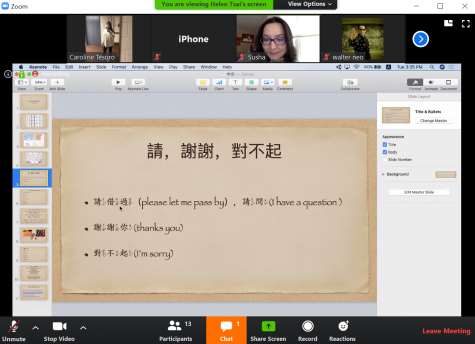 The one-hour event took place from 3:25-4:25 p.m. on Tuesday and has been held since April 21. The ISS is planning to continue mini-language sessions until the last week of the semester to help international students cope with stress during this difficult time.
"We try to make those language lessons fun and interactive," Pace International program coordinator Susha Galimova said. "We want our students to know that they can log in to the Zoom meeting and interact with fellow students, find new friends, share their struggles, and have some positive time talking to each other."
The event was hosted from Taiwan by Helen Tsai, a graduate student at Pace. The meeting covered the basics of Mandarin, the world's most spoken language with 1.2 billion people. The host showed letters and pronunciations. In addition, Tsai shared the most common Mandarin phrases with participants.
The idea of helping international students deal with stress was not a new service the ISS provides. The international student club had already had coffee and tea hours during common hours. However, the ISS has postponed or moved all in-person events online due to the Covid-19 outbreak.
Yet, the office and the international student club thought events should be interactive and educational.
"Mini language lessons incorporated both," Galimova said. "You can learn a language and important phrases, learn something new about the country, and meet new people."
Previous meetings have covered Russian, Italian, German, and Mandarin mini-language sessions. Last Thursday, May 7, students met again to learn Spanish. The ISS plans to continue learning a new language, with French and Swahili are planned to be featured, until the end of the semester.
With the advantage of being located in the nation's biggest city, Pace campuses accommodate foreign students from different backgrounds. That is how the office came up with the idea. Each week, the ISS assigns one international student who is native of that language to host the event.
"We were pleasantly surprised to get an amazing feedback and responses from students who wanted to teach a language," Galimova said.
Volunteers prepare PowerPoint slides and share them live on Zoom. Previous mini-language session slides can be found on Pace International's Instagram page.
"We want our international students to know that Pace International Students and Scholars office is here for them and they are not only helping with visa and status questions but also supporting them during this challenging time," Galimova said.

Although the mini-language lessons are organized and hosted by the ISS and the international student club, they are open to anyone who is eager to learn phrases in a different language.
"We are welcome to see domestic and international students who are interested in learning a new language, become familiar with new cultures, and make new friends," Galimova said.