Pace student athletes organize march for DJ Henry
Over 200 Pace students marched against racism and police brutality on Sunday in a continued effort to receive justice for the death of DJ Henry. The march began at the Pace Pleasantville campus and ended in a rally outside the Thornwood CVS, feet away from the site of Henry's murder.
Danroy "DJ" Henry was a student and member of the football team at Pace 10 years ago. On Oct. 17 2010 an officer asked him to move his vehicle from a fire lane when a fight broke out at a bar nearby. After being asked to move, Officer Aaron Hess pointed his gun at Henry and shot him through the windshield. 
As Henry was dying, he and his friends were handcuffed.
According to CBS, Hess feared for his life because Henry tried to hit Hess with his car after being asked to move. However, "DJ's friends and witnesses denied he was driving fast and said he wasn't trying to hit the officer."
Carlton Aiken, senior quarterback for Pace football and organizer of Sunday's march, moved his team to sit out of practice this week. 
"On Thursday it was the first day of football workouts, but all week we had seen the NBA players and NFL players come in solidarity, and sit out of games and practices and workouts," Aiken said. "Our leadership group on the football team decided to sit out of practice and word quickly spread to all the other sports teams. We all came together as one student athlete body and decided to sit out of practice for the rest of the week." 
While national teams receive recognition by sitting out of televised games, Aiken knew the Division II athletics program had to do something bigger.
Aiken continued, "We didn't want to sit out and not be seen or heard so we decided to put this together (the march) to shed light on police brutality and social injustices in America."
Many members of the football team, including Aiken, wore symbolic t-shirts with a message for those affected by police brutality.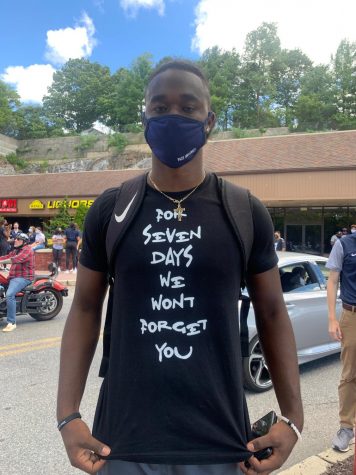 "My roommate, my best friend, Eli Simmons, created his own brand Seven Clothing, and this is one of his shirts. It says, 'For seven days I won't forget you.' It's not only for seven days, it's for all seven days of the week. Every single day we won't forget everyone who's been affected by police brutality and social injustices," stated Aiken.
Pace junior Aramis Ramos is not a student athlete, but he attended the event in support of the Black Lives Matter movement.
"We were the last people in the group (Those walking were split into groups of 25, due to COVID-19 restrictions), and we were listening to "Murder to Excellence" by Jay Z and Kanye West in which the opening line is "This is to the memory of Danroy Henry," and they said it right as we started chanting. It was beautiful, I really started to cry a little. I'm glad we have this energy on our campus."
Henry's death has recently made headlines nearly ten years after his death because Pace students began a petition to reopen his case, which now has over 300,000 signatures with a goal of 500,000. As of June 12, the Westchester County district attorney's office told 25 Investigates, "Under the former District Attorney, the Westchester County District Attorney's Office thoroughly investigated the shooting, presented the case to a Westchester County Grand Jury at the time of the shooting. The Grand Jury declined to bring charges against the police officer," and the U.S. Attorney's office reviewed the case and did not file charges.
Head Pace football coach Andy Rondeau fully supports his team and their decision to sit out of practices. 
"People fall on all sides of this, but the fact that they can support each other and do it in a way that's productive is very cool," Rondeau said. "I have not seen anything like this at Pace before in my time here. This isn't the first time that we've tried to remember DJ Henry, so it's nice to see that there's positives that can come out of things that are negative."
Rondeau stated that Pace football is currently in the process of retiring Henry's number, 12. His number is no longer in circulation for the team and there are additional plans in place to honor Henry throughout the semester.
About the Contributor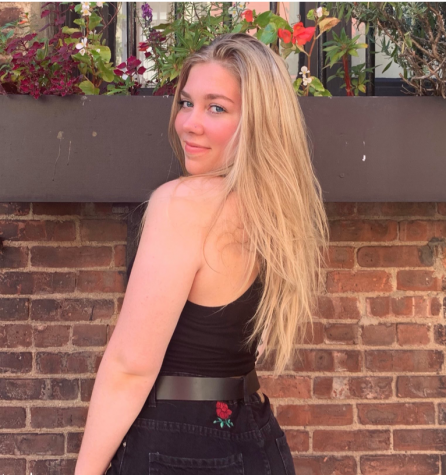 Sequoia Cumming, Editor In Chief
Sequoia Cumming is an honors-level senior majoring in Digital Journalism and minoring in Sports Media and Broadcasting. While starting as a contributing...