How Campus Tours are Working Amidst Social Distancing Guidelines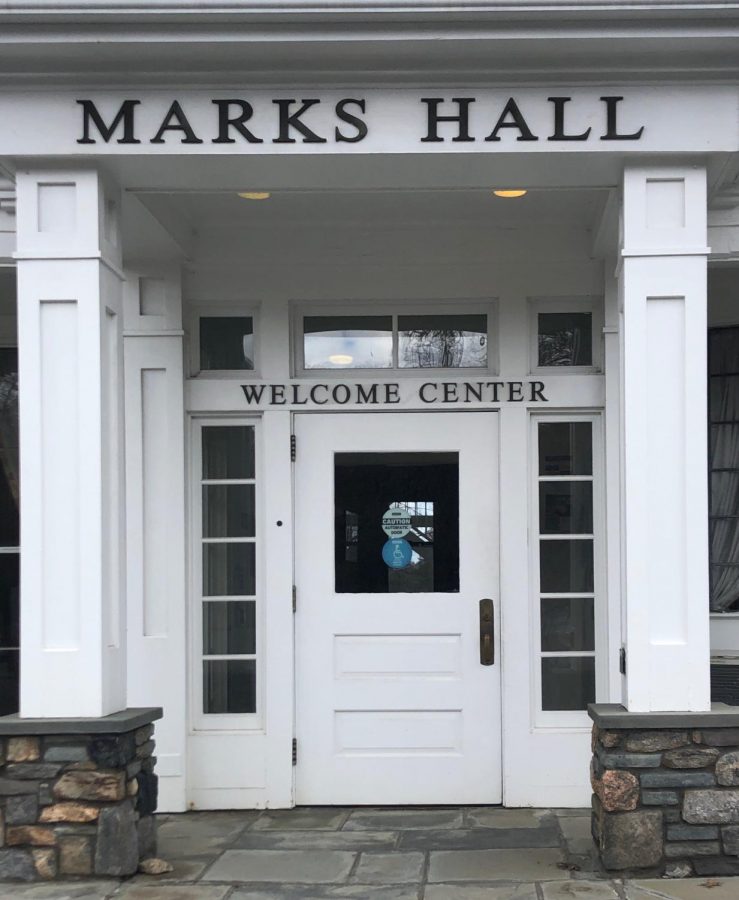 Colby Payne, Contributing Writer
September 19, 2020
Pace University prides itself on its tours, but everything had to change once COVID-19 reached the area.
In early March, classes were being held in-person and all was relatively normal as tours were constantly running. Tours were scheduled Monday through Friday for 11 a.m. and 3 p.m., and they also offered an 11 a.m. tour on Saturday.
John Ewen was completing his normal duties at his newly acquired job as manager of the Welcome Center, while students Victoria Rooney, Daniela Lusuriello and Caitlin Oris had all recently completed their training to become tour guides.
They were  prepared for the surge of high school juniors and seniors who would be making their way to campus for tours. Then COVID-19 struck America and everything changed.
Ewen and his team at the Welcome Center worked hard to come up with a quick, effective new way to allow prospective students to see the campus.
Zoom meetings proved to be the best way of doing this, as they worked much like in-person tours, with the same schedule. The tour guides had to adapt quickly to this sudden change, though it proved to not be an issue.
"It wasn't a hard transition at all, John and Dan made it so easy and it's really the same just over Zoom," Rooney said, followed by agreement from her fellow tour guides.
In the midst of the melancholy that COVID-19 has brought, the Welcome Center was able to salvage a bad situation and get some good out of it.
The virtual tours provided opportunity to increase outreach.
"We had a larger reach than we did in the past… students who come from outside of the east coast, it's harder for them to make it onto campus for the tours, knowing that people are able to hop on their computer and join a tour that way is great,"explained Ewen.
The tour guides also noticed that students are much more comfortable asking questions over Zoom since they are not completely overwhelmed by being in a new environment surrounded by new people.
College, however, is much more than just a campus, but also the surrounding areas which led to another idea from the team: drive-through tours. In late July, the Welcome Center implemented these drive through tours so that students could drive around the campus, also allowing them to visit Pleasantville, White Plains and New York City, all of which could influence a potential student's decision.
Much of the credit of the success of these tours goes to the tour guides, Ewen made it a point to make this clear. The tour guides of Pace are what makes this University unique, the personality and charisma of these guides often influence students to commit to Pace, and even further down the road become tour guides at Pace themselves.
One day things will go back to a relative normal. When that day comes, the Welcome Center will be prepared to also return to normal proceedings, with new lessons learned.
The Welcome Center is unaware of when in-person tours will return. However, virtual tours may be here to stay.
"It depends on what we are told from the CDC, local governments and Pace itself. Once we know everything we can make a decision from there, I definitely think there will be limits on how many people can come on a tour, and masks will be required, there will be social distancing," stated Ewen.
Lusuriello gave her opinion on the matter saying, "If things do go back to normal, I think this is a great option and should stay, it allows people from across the country to join."
The journey back to normalcy will be a long one. The university is still at the beginning stages, but the Welcome Center and tour guides of Pace are ready to continue to adapt to the situation.