RHA Works to Commission Mural in DJ Henry's Honor
In honor of the tenth anniversary of Danroy "DJ" Henry's death, the Residence Hall Association (RHA) is working to commission a mural in Henry's honor on the side of Ianniello Field House.
According to RHA Vice President of Engagement, Irach'e Teague, the idea for the mural came about during an RHA meeting. The organization was brainstorming potential advocacy projects, and VP of Treasury, Jarette Mungin, first raised the idea.
"It was one of those things where someone mentioned it, but nothing was said or done about it," Teague said. "So then I met with him and said 'I really wanna do this. Let's get the ball rolling on this.'"
Teague, Mungin, and Brandon Joachim from SGA met to discuss the next steps for the project. In order to move forward on the mural, they would need to present their ideas and process to SGA, the student senate, and the finance committee, along with campus facilities, Interim Dean for Students, Rachel Carpenter, and the Henry family.
"No matter what Pace does, nothing can amount to him losing his life. Nothing can make up for it," Teague said. "Nothing can equate to the life of someone. No matter how many murals we paint or marches we have, it's not going to bring him back. But it will change the way people think of the Black community and people of color… I really want people to understand that DJ Henry was a student here. He was not some sort of gang member or whatever negative connotation that people associate with Black people. I want people to eliminate that from their minds. DJ Henry was a football player. He was active and social here on campus. He was a student. He was a human being."
Teague had to ensure that the athletics department was on board, seeing as the mural would go on the side of the field house. She reached out to one student per athletic team to act as student liaisons who would promote the project to their teammates and coaches and send anyone Teague's way if they had questions, comments, or concerns.
Teague reached out to Los Angeles-based muralist Brittany Price to design and paint the mural. Ideally, Teague would like to have the mural finished by the end of Social Justice Week. She thinks that unveiling the mural would make an amazing finale to all of the week's events.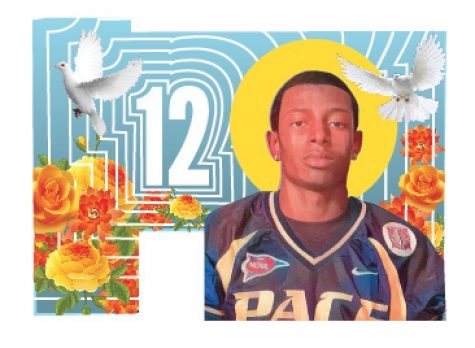 "There's still a lot of people who need to approve it," Teague said, "So I'm not sure when it will be ready. Time is of the essence, but I'm staying positive."
In an effort to raise support and awareness among the student body, Teague started a petition for the mural on change.org. As of Oct. 17, the petition had over 500 signatures.
Junior political science major Pearl Luciano was one of those signatures. She heard about the petition through a friend and says she believes that this mural is something that should have been done a long time ago.
"I'm a political activist, so I fight for the rights of any human," Luciano said. "Any minority. As VP of DSA [Dominican Student Association], I try to bring about diversity and knowledge of racial injustice… DJ Henry did not need to lose his life that night. The mural is the least we can do since he still hasn't gotten justice."
Luciano hopes that the mural will promote knowledge of the fact that, even though DJ Henry lost his life to police brutality 10 years ago, he will not be forgotten. She wants the mural to evoke a sense of hope in people of color by ensuring them that there are those willing to fight for and stand by them, while at the same time evoking a sense of shock, "At how somebody so innocent lost their life for nothing."
She also hopes that it will serve as a unifying factor for the Pace community.
However, while Luciano hopes that the mural will bring about unity and solidarity, Teague says that she has encountered criticisms while trying to make the mural a reality.
Some of the people to whom she presented the idea were reluctant to support it because of personal negative associations with the Black Lives Matter movement, even though the mural is not explicitly Black Lives Matter related. (The original idea was actually to have a Black Lives Matter mural, but the planning team thought that it would be better to center the mural around DJ Henry, as this month marks the 10-year anniversary of his death, and he was a large part of the campus community during his time here.)
Teague says that, during the planning process, someone asked her if she was worried about vandalism to the mural.
At first, Teague was shocked that anyone could even consider that. But after thinking about it, she realized that there are a lot of people on and off campus with conflicting opinions and even though the mural is meant to honor the life of a Pace student who died at the hands of the police, there are some who might see it as an attack on their political views.
Teague expressed that, as a Black woman, she feels like an outsider in the predominately white Pleasantville and its surrounding towns. She sees racism ingrained at all levels of society, and she wishes that people of color could be free of it.
She would like to live in a world where a Black woman could feel comfortable and accepted wearing her natural hair to work.
Teague also hopes that Pace will one day place as much emphasis on anti-racist policies as it does on its no-guests-during-the-pandemic policy. She believes college should be a safe place for everyone.
Both Luciano and Teague expressed that they do not feel that Pace has done enough to honor DJ Henry. Teague was particularly frustrated that, up until recently, the only prominent display of Henry's name on campus was a clock that never showed the right time. Luciano wants there to be more education about racism in the Pace community. She believes that education can solve many of the problems at hand.
"I hope that one day, people are educated enough, and racism can die down before we all destroy ourselves," Luciano said.
While Teague is frustrated at how long it took for DJ Henry's name to attain its current level of recognition, she is hopeful about what this recognition means for the future.
"It took ten years- ten years– to get something like this done for DJ Henry, and it's so sad that it took such a long time," Teague said. "But I feel like it's also rewarding because it shows that this generation is not playing games. We are applying pressure. I want students to realize that if there's something you want to get done, apply the pressure. Shake up all the trees you got to shake up… If it doesn't work out, you can't say you didn't try. If it does work out, then it's even better for you because it's like damn, I really did this."
Teague hopes that the mural can be a source of inspiration to those who view it. She hopes that they will feel motivated to advocate more- not just against racism, but against anything they see that is ethically wrong- and that they will have deeper gratitude for the life that they are living in a world where tomorrow is never guaranteed.
She would like to thank the rest of the planning team, Dean Carpenter, her student liaisons, and everyone else who has offered their help and support.
Desmond Hinds and Brandon Cox, two of DJ Henry's friends, both think that the mural is an excellent way to honor Henry's memory.
"I think if it is done right, it would be awesome," Hinds said. "Done right meaning well thought out, high quality, and carefully crafted with input from people that were closest to DJ."
Cox agrees, and he is happy that the mural will be on Ianniello Field House since sports were such a big part of Henry's life.
"Sports were near and dear to DJ's heart. They were something that he loved, something that he wanted to excel at," Cox said. "Even more important though is to not forget him, not forget his legacy, or the impacts that he's had on people. In the beginning, I don't feel like the support was fully there, so to have the school do something like this and show their support for him, it's very necessary, very important, and I think it would be spectacular to have him there, to always be there and to never be forgotten, because he's someone who should never be forgotten."