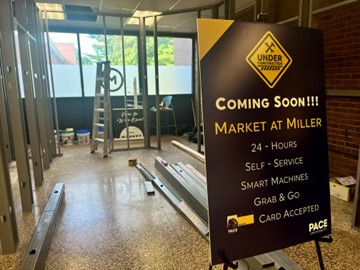 Chartwells has invested in upgrades to the Market at Miller with Byte Technology, a company that manufactures 24/7 vending kiosks.  
Since the end of last semester, there have been a lot of changes made to dining services at Pace University. Students who returned to Miller Hall for class learned that the Miller Mart they counted on for a pre-class pick-me-up was gone.  
Ariel Cargill is a junior at Pace University. The Market at Miller was her go-to when it came to dining on campus.
"I would go before every class or after class that was like my place to get food, I would never go to Kessel if I had class in Miller," Cargill said. "…whenever I go and I just see it destroyed I'm like damn I want a drink, I'm hungry!" 
Kevin Henriquez is the general manager of Pace Dining on the Pleasantville campus. He is waiting to confirm the details with the contractor to begin building the new market. Until then, Henriquez shared what information he has for the moment. 
"… I can tell you that The Market will be a huge upgrade from what it was," said Henriquez, "providing 24-hour service using BYTE Technology that has been integrated with The PACE IDs," 
With a simple swipe, you will have access to fresh food options in the new kiosks. According to Byte Technology, a built-in tablet allows you to filter the food options and check the product inventory.  Once your card goes through, the door opens, and you take your pick.
For payment, "The machines will take dining dollars, flex, and credit." Henriquez said. 
The machine senses when an item has been removed and automatically charges you for whatever items you choose. For coffee lovers like sophomore Eddie Ramos, the general manager noted there will be a new coffee option opening as well. A much-needed amenity for those early morning classes. 
"I like to drink coffee in the morning when I have morning classes [the Market at Miller is] an easy way to get access to that." Said Ramos. 
Henriquez says the machines are already in-house, ready to be opened when the town of Mount Pleasant gives the green light to get started on the renovation.