Among Other Things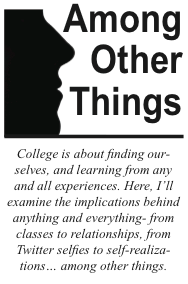 A few nights ago, a normal Wednesday night, I received a Facebook message from a boy whom I had only met once. This boy happened to be the boyfriend of a good friend of mine. I immediately found this strange. Usually, any Facebook messages I receive past 1 a.m. are from guys who are either friends with me or who are only looking for some kind of late night hook-up.
My friend's boyfriend's messages to me started off with a funny reference from a story I had told him, to which I responded with the ever-so-overused "lol." He then said
"I'm drunk.

Sara, let me tell you some- thing."

Uh oh. I thought to myself.

Should I even bother respond- ing? Probably not.

But I didn't need to respond, because he messaged me again.

"Ok," he said. "Don't tell my girlfriend."

Oh goodness… I thought to myself. Oh no… Stop messaging me…

I feared the worst.

"I'm very drunk," the boy continued.

This surely won't end well now, I thought.

"and……….
I love my girlfriend. SO much. She's such a good girl.
Really. A genuinely good per-

son and such a good girlfriend."
I responded with something along the line of "omg the truest

of loves how adorable!" "Seriously I love her a lot

djalngan (I don't know what that word was supposed to be)

i just felt the need to tell some- one lol

it amplifies
my love
when i drunk"
My fear of this boy attempting to cheat on my friend had completely subsided. Even in his in- toxicated state, he was a completely faithful boyfriend, proclaiming his love through Facebook mes- sages. These are the kinds of relationships people should be in- -relationships where trust, faith, and love exist no matter what kind of state the couple is in past 1 a.m.
Although I'm still not quite sure why I'm not allowed to tell his girlfriend.
Oh well, she'll know now. Cheers to a good relationship.