In Defense, SGA President Dan Adjei Paces His Progress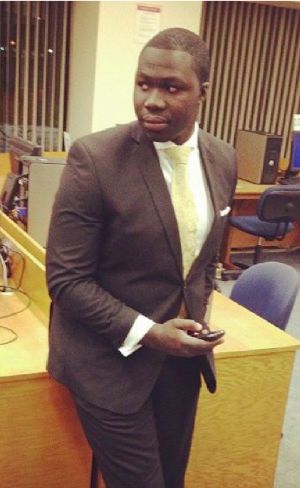 "Out of sight, out of mind" might as well be the motto for the Millenials. To those students fidgeting on the edge of their seats waiting for word of Dan Adjei's big move, don't count on it. As his presidential term comes to a close, he continues to face rumors accusing him of being a figurehead in Pace's Student Government Association (SGA).
Shortly after Adjei won the votes of his peers, I sat down with him to work on a feature piece for The Pace Chronicle to help shed light on Pace's new, student advocate. Almost one fiscal year later and many students, including sophomore psychology major Josh Imasuen, still wouldn't be able to pick out Adjei in a crowd.
"Is it Mark?" asked Imasuen upon being challenged to recall only the first name of the SGA president.
No, Adjei has not been entirely socially checked-in with his peers. And no, the fruits of his labors are not ready for immediate consumption.
This has aroused suspicion towards SGA within the Pace community. However, the accused do-nothing-president has been working tirelessly to establish a foundation for student leaders to expand upon in years to come.
"Coming into office I thought I'd be dealing with [students] and getting the job done quickly," Adjei said. "I thought I'd be more visible for students but I realized the job was more administrative and external."
Meetings with Pace's Provost, Dr. Uday Sukhatme, University President, Dr. Stephen Friedman and Dean of Students, Dr. Lisa Bardill Moscaritolo,  occupied much of Adjei's time. When he came into office he had four goals – bridge the gap between the Pleasantville and Briarcliff campuses, increase faculty and student interaction, create a 24/7 study space in Briarcliff and implement the new student-teacher evaluation system.
The problem with our generation is that we rely so heavily on instant gratification that we don't understand why these changes aren't happening overnight. Paired with a "strong opinioned faculty," the modifications that Adjei and his team are looking to execute will likely happen over a longer span of time.
"There is a necessary skill set for presidential candidates," management major finance minor and SGA Vice President of Finance Sungi Clark said. "They need to have a foresight in what's going to happen in five or ten years."
One of the first things that this year's SGA board did with their faculty advisor, Shawn Livingston, was sit down to discuss major goals and how to tackle them. Among the many that Adjei targeted was bridging the gap between students and faculty. This includes a common student-faculty lounge, student-faculty athletic competitions and more efficient Blackboard services in which faculty course evaluations will be posted within Pace's Blackboard circle – thus eliminating third party sites, like Rate My Professor. However, that has been a 12 year conversation.
"There is a gap in the way that the vast majority of the way in which that faculty, staff and administration conduct business and the way in which students, the Millenials, conduct business," said Livingston, who in addition to serving as SGA's faculty advisor is  the Associate Director of Student Development & Campus Activities (SDCA).
Livingston and his team have a mission to advocate for the students while leveraging procedures of administration. They serve to fill the gap in communication between the two parties.
"You might do something as an e-board member and it's quickly done and made public to the student body," Livingston said. "It doesn't matter what I did and they like that because it was quick and they saw the results. But if I take a really long time and possibly only break the ice or begin to understand why Pace wants or does something a certain way, it is more than likely that students don't validate that because it's not public, or fast enough or tangible."
Much of what SGA has been doing this year has been a painfully slow process, even for those involved. 2/3 of Adjei's time in office has been spent creating a student survey which will hone in on specific issues for the next SGA e-board to carry out.
Like much of the construction going on for the Master Plan, groundwork is being laid for future students in office and classrooms alike. The mound of dirt sitting on potential parking spaces is not a fair representation of strides being made and the mud and lack of sidewalks only pose as an inconvenience. But next year the architectural skeletons will take form and the year after they may look like structured buildings.
"What's visually out there to see is nothing," said Livigston, "and a sentiment that we could have done a better job of [publicizing] what we were working on; and we're fixing that."
Next year SGA plans on having a newsletter sent directly to the student mailboxes, a material representation of projects and goals being developed.
"I may not have been as communicative as I could be and I apologize," Adjei said. "I'm about to leave and this may not affect me but I'm working on making Pace better for future students."
Sukahtme attended the SGA/Budget Allocation Committee (BAC) meetings for the first time under Adjei's presidency because of the relationship that the two have harvested on behalf of the students. In years to come, SGA will already have this established relationship to work off of in more effectively exploring student grievances.
Last years' SGA goals were more immediate and short term. Former SGA President Mel Londono implemented a better presence on campus by starting the signature event Midnight Breakfast and establishing an SGA logo which they marketed themselves by during elections. They identified two student problems through an administrative task force, one of which was accounts of larceny in the library solved by the installation of cameras. But she still agrees that it is not the individual SGA team that makes the difference, rather the culmination of the year to year strides.
"A lot of what SGA does is behind the scenes with very heavy transitioning," Londono said. "When I was transitioned I got a binder with a post-it note that said 'Good luck!'" And so I thought we needed to make sure the next e-board was more prepared with guidance."
Londono and her team were the first to come up with the idea for each new e-board to build upon the last year instead of restarting each September, and that's exactly what Adjei and his team have been doing.
"An impact is an impact," Londono said. "SGA is not to be recognized for whether you notice an immediate change or not. People want crazy results but the e-board members are students themselves just trying to better the lives of their peers."
If SGA were a Facebook page there may not be a little red number that appears for every change that the team has made.
Leave the instant gratification to social networking and instead, keep in mind an important folk lesson learned; slow and steady wins the race.
About the Writer
Cecilia Levine, Managing Editor
Cecilia Levine is a senior applied psychology major from West Hartford, CT. She began writing for the paper as Feature Editor in the spring of 2013. When...