Paying To Have A Job: The Summer Internship Struggle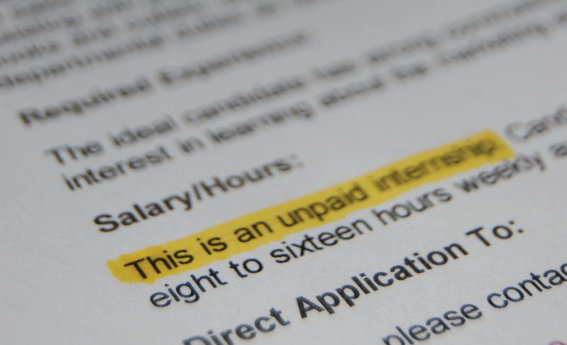 It's that time of year again- time to hunt for summer jobs or internships. Last year I was lucky enough to receive a paid internship over the summer, one that did not require receiving academic credit. I enjoyed my interning experience and learned more than I ever have in any traditional class, all the while getting paid several dollars above minimum wage.
But the reality is that most internships are not paid. I understand that companies probably don't have the funds to pay interns, but interning is work and people who can afford to hold down an unpaid internship over the summer are lucky.
People who can afford to receive credit for an un-paid summer internship are luckier.
I am currently facing the fact that I may not receive a paid internship this summer. As I wait patiently and nervously for emails and callbacks to schedule interviews, I know that there is a chance that people more qualified than me may get the few and far between paid positions, leaving me with the options of getting a job as a waitress or cashier…or taking an unpaid internship.
The option of taking an unpaid summer internship may be out of the question for me, however. A part-time unpaid internship sounds reasonable enough, as I would have time to pick up a part-time job as well. But, many of these unpaid internships require travel expenses and academic credit (not all do.) I would love to get academic credit for my work over the summer, but, of course, there is a catch.
Money.
In order to take summer classes within Pace University's Dyson College of Arts and Sciences, you need to pay for the credits. This is understandable, yet expensive, with credits for undergraduate summer classes at Pace costing $918 per credit.
In order to receive credit for a summer internship, you also need to pay for the credits. To my understanding, internships are three credits. So, to get credit for a summer internship, a student will need to shell more than $2000.
Last semester I asked an academic advisor for Dyson College about receiving internship credit. I was told that if an internship is completed over the summer, the credits must be paid for as summer credits and cannot roll over as credits for the fall semester.
Thus an unpaid, for-credit summer internship would leave my bank account in the negative.
Travel expenses also need to be taken into account (although I do believe some internships provide travel stipends.)
My advice to Pace students is to meet with your career counselor to discuss options for the summer; your counselor might clue you in on ways to get funding for internships or programs that offer funded internships.
I would like the University to consider allowing credits received for summer internships to "roll over" and count as part of fall coursework. This would allow responsible, driven students to pay the same tuition price for the year and still be able to take on a 15-credit course load. The maximum credits one can take per semester is 18, so three of those would be taken over the summer, still leaving the student able to take on a full course load during the fall semester.
This would allow for students to be able to have a rewarding summer experience without paying on top of tuition for the fall and spring semesters.
That being said, taking on an internship during the fall and spring semesters is completely doable, as many students are able to schedule accordingly to have time to travel to the internship.
But I'd still love it if I could get credit for a summer internship without paying. My major is Communications, which requires that I complete at least one internship for credit. It would be convenient to spend my summer completely this credit requirement while also devoting my time fully to the internship and networking.
I probably won't be able to make as many connections or learn as much from being a grocery store cashier. Oh well.