For Greeks, It's All About Image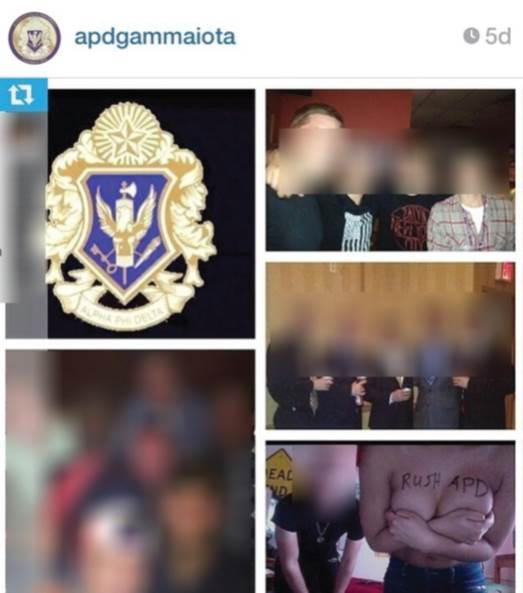 Two weeks ago, fraternity Alpha Phi Delta celebrated their centennial anniversary. The same day, Pace Pleasantville's Gamma Iota chapter posted a number of photo collages to their official, public Instagram, one of which featured a topless woman with their letters, APD, written across her chest.
As I write this, Tue., Nov. 18, the photo remains on their profile, 13 days after its initial posting.
The picture in and of itself presents few concrete problems: the woman seemingly consented to the photo and is likely of-age. The publishing of nudity and partial nudity can be considered freedom of expression. And, although it is inferably part of a long-held Greek tradition of collecting photos of bare individuals bearing letters, even this cannot be proven or truly considered hazing.
Yet, something about the fraternity's decision to include this photo in a public celebration of their organization's fortitude and longevity still doesn't seem right.
At a time when Greek organizations are consistently appearing at the wrong end of sex scandals and misogynistic mishaps, the blatant boasting of such a tasteless photo raises serious questions about the way modern fraternities present themselves.
This semester alone, students at schools including Rutgers and Stanford University have called for a major revision or end to Greek life based upon its promotion of rape culture.
According to a study by the NASPA Journal, fraternity members are three times more likely to commit sexual assault than their non-Greek counterparts, while sorority members are also three times more likely than non-Greek women to be victims of the crime.
Several factors contribute to this statistic including the prevalence of alcohol abuse within Greek organizations and the traditional and restrictive binary gender system its very structure upholds.
Much has been written comparing the Greek pledging system to rape, stating that the coercion of pledging members into activities beyond their control mirrors the power struggle that exists within sexual assault.
While this information is all startling and true, I whole-heartedly believe that it is not an accurate reflection of the Greek organizations on Pace's campus.
That being said, all students must execute greater caution in the way that they represent themselves publicly, especially on social media.
And, for Greek organizations the responsibility to build good will is much greater. A certain stigma is attached to each individual, the moment they put on Greek letters, whether that be the values they uphold or the negative stereotypes the media has created for them.
The route that you choose is entirely up to you.