Bussing to Residential Hotel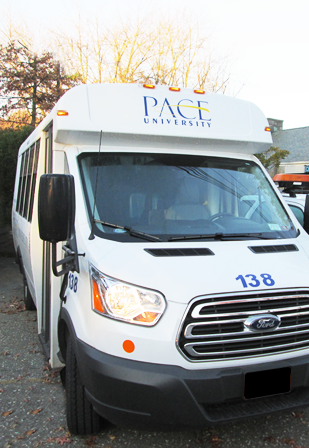 Dorm life is a huge part of the college experience. It's a chance for students to get a sense of what it's like to live on their own. It's also a stepping stone into the real world with the fact that you have a roommate and/or suitemates to get along with, even though some habits may not be the most pleasing. On the other hand, dorm life is an extremely convenient way to hang out with new friends and gel with students from different backgrounds. Every student should have the opportunity to experience dorm life every semester they decide to reside on campus. Unfortunately, that can't be said for every student here on the Pleasantville campus.
A certain amount of students that attend the Pleasantville campus are not commuters, yet they don't live on campus. The amount of students enrolled here has exceeded the amount of living space that can be offered. Due to this, Pace had to turn to alternative options to house these students. That alternative was a hotel in Elmsford. The hotel is about five miles away from the campus and students are still expected to make it to classes on time without missing a beat.
On top of that, students are expected to find their own way to and from the hotel. There is no means of transportation provided by the University to accommodate these students and their living situation. That just seems totally unfair to me. The fact that they are already five miles away from campus there should be a bus that runs at least two to three times a day to bring these students back and forth. It's unfortunate that they can't be on campus with the rest of their peers, but now they have to struggle to find a way to get to their first class of the day and back to the hotel after their last class of the day. Specifically, those without cars.
I contacted Ms. Francoise Crepso, Director of University Transportation, to ask why there isn't a bus that runs to the hotel. She explained that she was "unaware that there were students in Elmsford." She also explained that she checked with Residential Life about it and they told her that, "students were advised to assume their own transportation and that transportation was not part of the agreement for living there."
I was completely shocked by the email and didn't know how to take it, because while many of us here have the ability to wake up minutes before our classes start and still get there on time they have to wake up maybe half an hour to an hour to make sure they do the same. Some rely on Ubers and Lfts to get them through, but that takes a toll on the pockets. They are students of Pace University and there should be some way to make their commute more convenient. Having a bus to run that way is one of the simplest options to me.
About the Writer
Josiah Darnell, Opinion Editor
I am a junior Digital Journalism major with a minor in sports  marketing. I'm currently the Opinion Editor of the Pace Chronicle. I'm from Queens, NY,...