The line between appreciation and appropriation
Lately, if you check any entertainment news outlet, you'll see at least one story about a celebrity being slammed for "cultural appropriation." Celebrities like the Jenner/Kardashian family, who are notorious for wearing traditionally black hairstyles and adopting aesthetics from cultures other than their own, are always making headlines with their controversial decisions.
Cultural appropriation is usually implemented when the culture in question is a minority culture or inferior in social or economic status to the appropriating culture. Appropriation usually occurs when individuals take aesthetic standards, images, and behavior from one culture without any genuine knowledge of the meaning behind the parts of other cultures that they're borrowing from.
When another culture is being appropriated, parts of that culture are turned into something "meaningless" for pop-culture. Objects and traditions of marginalized cultures are seen by the dominant culture as exotic, edgy, and desirable. The people of that culture are overlooked, but aspects of their culture that's deemed worthy enough to be taken aren't.
For example: In 2015 Kylie Jenner posted an Instagram photo of her hair in cornrows. It was seen as something new and "bold." She was praised for her hairstyle. Meanwhile, When Zendaya Colemen, a black woman, wore Locs at the Oscars in 2015, Giuliana Rancic commented that Coleman looked like she reeks of marijuana.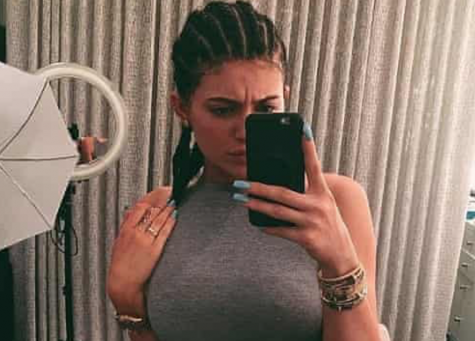 Of course, there are times where adopting a part of another culture can be appropriate. This is where Cultural appreciation comes in.
Appreciation is when someone seeks to understand and learn about another culture in an effort to broaden their perspective and connect with others cross-culturally. It's all about learning and understanding the cultural or religious importance of particular manners, dresses, symbols, and rituals of a specific community and recognizing the richness and character in these culturally significant expressions should be done in a respectful and contemplative way. There is a fine line between cultural appropriation and appreciation and how far you can take your appreciation for a culture without being disrespectful.
Sophomores Olivia Hawkins, Yenelle Cumberbatch, and Aramis Ramos weighed in on the discussion about cultural appreciation and appropriation and whether or not they believe it's an active problem.
Ramos stated that for him, cultural appreciation comes with intention. "Wearing sombreros and eating tacos on Cinco de Mayo is a celebration of Mexican culture although for many it's an excuse to binge drink," Ramos said, "Cultural appropriation becomes a problem hen people only adopt other cultures as an accessory. Like tribal tattoos mean something to natives of Samoa while people in America wear them as an accessory. That is when it becomes a problem."
Cumberbatch pointed out cultural appropriation when it comes to traditional black hairstyles being worn by non-black individuals as fashion statements.
"Some women who do their hair in cornrows don't understand the history behind the hairstyle. When a black woman wears her hair in braids she's seen as "ghetto" or "dirty" When a white woman does it it's a fashion statement. This kind of appropriation takes away from the history and significance of someone else's culture"
Cumberbatch said that she finds pride in knowing that others can understand and want to understand what her cultural traditions are. "But I do believe there's a fine line between appropriation and appreciation" Cumberbatch stated, " In my culture, wearing henna is supposed to be a sign of marriage, a new beginning, but people from other ethnic backgrounds have made it be something it's not"
Cumberbatch's comment can be applied to individuals wearing henna at music festivals such as Coachella for aesthetic reasons without truly knowing why henna tattoos exist.
"It takes away from the true value and meaning behind henna," Cumberbatch said.
Hawkins says that she belives cultural appreciation is a valuable aspect of society when executed correctly.
"It provides people of color with an air of societal acceptance for things that culturally belong to them," Hawkins said. "The appraisal and acceptance of braids and dreadlocks in the workspace would be cultural appreciation. Cultural appropriation, on the other hand, violates the boundaries desired from appreciation by invalidating the struggles of others in place of no people of color capitalizing off of it."
Hawkins stated that she believes cultural appropriation is a deep-rooted social issue because it widens the divide between people "Cultural appropriation shows us that while our cultural norms are not fully accepted, others can get away with utilizing such styles, technique, and essence without facing any repercussions."
Hawkins continues and says that she believes that cultural appropriation can be harmful to people of color.
"We search for acceptance and equality in our practices of such behavior and our efforts are undermined sufficiently by others who abuse cultural practices for the sake of aesthetics or entertainment," Hawkins said, "There is clarity when culture is being accepted or abused, and it is up to those in question to realize the difference. Regardless of intent, cultural appropriation can be viewed as harmful. Provocative, and disrespectful towards people of color and it should be recognized as such."