Bones And All Review: a bone-chilling love story
I had the pleasure of attending a New York Film Festival screening of Luca Guadagnino's newest film, Bones and All, on October 8th at Lincoln Center.
Bones and All is a dark and gruesome romance that pushes cinematic boundaries of genre and appeal. It is a heavily nuanced and delicate piece of film, despite its harsh material. You will jump in terror in one scene, and in the next, cry thanks to a tender and emotional moment.
The film stars Taylor Russell, a relative newcomer to the scene who gives an outstanding performance as the lead and is undoubtedly the heart of the film. Timothée Chalamet also stars, delivering an expectedly incredible performance. This is Chalamet's second collaboration with Luca Guadagnino as he previously starred in Guadagnino's Call Me By Your Name in 2017. The film features the likes of Michael Stuhlbarg, who worked on Guadagnino's Call Me By Your Name in 2017 as well; along with Mark Rylance and Chloë Sevigny. Sevigny previously worked on Guadagnino's TV Series We Are Who We Are in 2020.
The film is based on a young adult novel of the same title, written by Camille DeAngelis. Though there seem to be some diversions from the novel in the film, the story is ultimately rooted in it.
Luca Guadagnino calls this project a fable, perhaps with lessons to be learned and metaphors to be discovered by the audience.
Bones and All is set in the 1980s in the midwestern United States, setting a lonely and desolate backdrop for the story from start to end. 
The story follows Maren, played by Taylor Russell, a teenager who has an insatiable desire to eat people. After a  mishap at a sleepover, Maren is left to her own devices and is forced to leave home, hopping on a bus cross country, in hopes to find her estranged mother who she believes has the same tendencies as her and is the reason that Maren is the way she is.
On the road, Maren encounters other "eaters," otherwise known as cannibals, or people who like to eat other people. First is Sully, played by Mark Rylance; a terrifying older eater who speaks strictly in riddles and in the third person. Then in comes Lee, played by Timothée Chalamet; a young adult eater who is a slightly more self-assured version of Maren. Lee becomes a sort of mentor to Maren as they navigate "eating" and existing on the margins of society.
After Maren finds Lee, the story quickly develops into a romance as the two travel together. A need between the two for the other becomes more and more apparent as the story progresses.
 Whilst being a gory and gruesome horror, Bones and All is also a heartfelt, tender love story full of sweetness and romance. These features are uncharacteristic of horror films typically, but in this film,  genre boundaries are crossed as we sweep from horror to romance, to coming-of-age genres.
Bones and All offers a unique perspective on human desire and love. As we watch these outsiders struggle to live on the fringes of society and live amongst each other, we begin to understand them as humans despite their twisted tendencies. Guadagnino puts the audience under a spell and we forget all of the suffering and pain these characters have caused.
The film poses the question of, don't all humans deserve love?
Throughout the story, we are moving around the midwest with the characters as they travel around via buses and trucks, thus giving the film a road movie feel and a sense of constant change. We see life-changing moments unfold on the screen throughout the film and this gives the story a sense of progression for the characters. By the end of the film, we feel as though we have seen them change and grow, perhaps into better people or perhaps into worse.
While the film features beautiful storytelling and acting, the musical score and cinematography are what tie everything together.
The score, composed by Atticus Ross and Trent Reznor, brings an eery and intricate sound to every scene it is featured in, which is an appropriate sound for the film. Bones and All would have felt very different with a different score.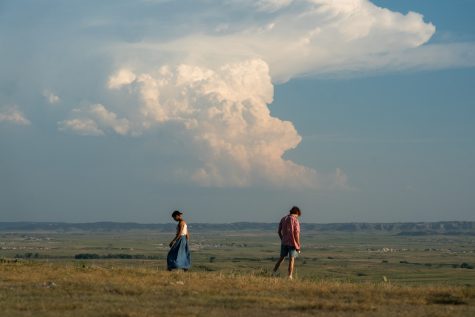 The cinematography of the film, shot by Arseni Khachaturan, is stunning; showcasing the beauty of the American Midwest against the grain of all of the chaos of the story.
As the film ends, there is an unforgettable scene. Without spoiling it, the final scene of the film brings the story full circle and gives the audience a feeling that will linger with them long after watching.
 You will not forget Bones and All. Micheal Stuhlbarg delivers a line in the film that defines the experience of watching, even out of context. He says "There is before bones and all, and then there is after."
Do not miss this film if you are a fan of horror and unconventional love stories. Warning, this film has some of the goriest and most disturbing material I have seen in recent film history, but if you think you can stomach that, do not pass this one up.
Bones and All comes to theaters in the United States on November 23rd.