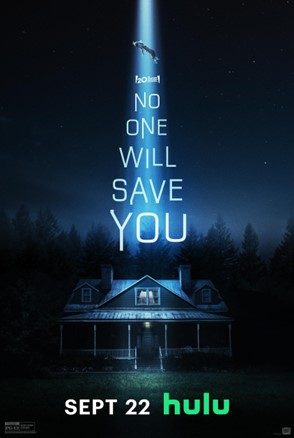 A few weeks ago I saw a trailer on YouTube for an upcoming movie called "No One Will Save You", an alien home-invasion thriller that looked like a cross of "Signs" and "Nope." While it piqued my interest, I was skeptical due to the fact that the trailer was released so late; I thought 20th Century Studios didn't prioritize this film and just shoehorned it in hoping to make a quick buck. 
Boy was I wrong.
I have not seen a streaming movie in a while that I thought deserved to be released in a theater for maximum effect. That's how you know a film took advantage of its budget and was crafted with a lot of love and care.
The movie is centered around Brynn Adams who is played by Kaitlyn Dever, a young woman living on the outskirts of a small town. One night she thinks she hears an intruder come into her home, but she soon finds out it's actually an alien, and it is revealed that there are more. Now, Brynn has to survive and find out what these extraterrestrials want. The narrative device of her isolation really raises the tension. Not only is she in a secluded location, but nobody in town will trust or support her due to a disturbing incident in her past. No one can, or really will, save her. 
The most surprising part of the movie was that there was no dialogue, with the exception of one brief sentence. The lack of speech makes it feel more tense as we can only depend on other sounds and visuals to predict what will happen. This helps give the movie some realism because if our home were ever invaded by those with bad intentions, I think we'd be scared yet fight back but as silently as possible. Dever's body language and facial expressions really sell this aspect. However, I did find some issues regarding the film's structure. 
There were many thrilling yet repetitive chase sequences and confrontations, especially one leading into the third act that just felt like it went on forever. Despite a 90-minute runtime, it definitely felt like 2 hours. The back half definitely loses steam too, throwing in a shocking (yet predictable) twist that I thought kind of ruined some of the mystery established earlier in the movie. It frustrates me whenever films start off really unique but then become more familiar as the scenes progress. Still, I can't deny that the positive parts mostly outweighed the bad. 
All in all, "No One Will Save You" is tense, thrilling, and riveting thanks to Kaitlyn Dever's excellent solo performance, the frightening sound design, and the overall uneasiness we feel. The script is not perfect and it does feel a bit too long, but I found it to be worthwhile, especially as someone who doesn't watch a lot of horror. To everyone on campus: if you're ever bored one night looking for something to watch, give this movie a shot. You won't be disappointed. 
Score: 73%