Award Winning Documentary Screened in Butcher Suite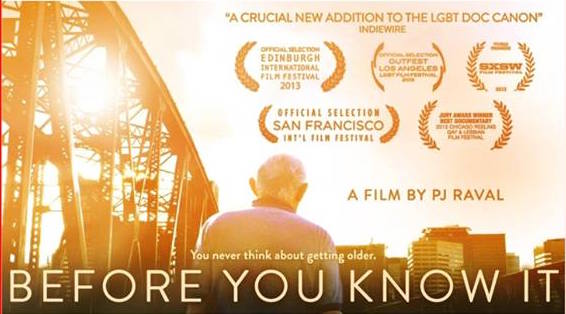 Pace students gathered in Butcher Suite on Fri., April 3 for a screening of the documentary film Before You Know It, as well as a Q-and-A session afterwards with one of the subjects of the film.
The documentary follows three senior citizens in the LGBTQ community from different parts of the country, with different stories, as they deal with daily struggles such as diminishing sex drives and the legalization of gay marriage.
One of the men featured in the documentary, Ty Martin, was present along his partner, Stanton. Before the screening began, Martin addressed the students to give a brief summary of what they were going to watch and gave hope for them to "get a better perspective of who we are."
The documentary viewing was hosted and presented by Jonathan Alvarez, a junior Resident Assistant in North Hall. As part of the First Year Interest Group (FIG) within each residence hall, Alvarez has been hosting "Film Fridays" in order to satisfy the pop culture and media FIG in his hall.
Two years ago, Alvarez volunteered at a film festival in Texas where he saw this film for the first time and came in contact with the film subjects.
Before You Know It certainly left an impact on Alvarez, and given the opportunity, he brought the film to Pace and held this event—which was sponsored by nine organizations, including Pride at Pace, Residential Life, and the Office of Multicultural Affairs.
As the film played, students seemed to develop an attachment to the subjects. Laughter was heard and some tears were shed. Once the documentary was over, Martin and his partner sat with students to answer questions and shed more light on the film and the senior LGBTQ community.
Regarding what he hopes students gain from the documentary, Martin said, "I hope we can have more conversations like this." Martin hopes that more attention will be put toward the 55 and older LGBTQ community. "It's an inter-generational concern, just like human rights."
Sophomore and Pride at Pace president Gabriel Solano was present at the screening.
"The people who came were very impacted," Solano said. "To hear their story and to learn from their experience was an awesome thing, and I'm happy I had the opportunity to experience that.
Solano also voiced his hopes that the Pace community would come out and support Pride at Pace. An upcoming event for the organization is the Mock Wedding in order to bring awareness towards gay marriage.
Martin is currently the Community Liaison for the national organization of Services & Advocacy for Gay, Lesbian, Bisexual & Transgender Elders (SAGE) in Harlem.