A Letter a Day Kept Her Cancer Away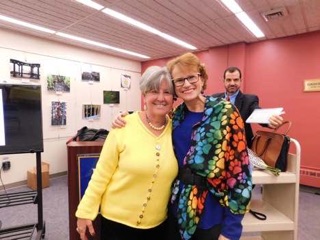 It was one or two days after her first chemotherapy session. She was tired, vomited, and couldn't lay down because of indigestion from the chemo. So, she decided to go check her email at her home office.
An email from a friend was in her inbox. She opened it and found a short comical snippet that made her laugh hysterically. Little did she know; a comedic flurry of emails for the next six months would cure her cancer.
Dr. Susan Maxam, Pace's Vice President for Student Success, underwent a double mastectomy two weeks after being diagnosed with stage two breast cancer in 2012. The surgery was successful, but a six-month chemo treatment followed.
Her friend and Pace colleague Dr. Ellen Mandel was particularly determined to lift Maxam's spirits.
"I decided that since I have been known to be somewhere between Calamity Jane and Gracie Allen, and since I grew up as a baby boomer with a wonderful but somewhat crazy dysfunctional family, and since I've taught for 50 years—10 at Brooklyn College and 40 at Pace—I've had [a lot] of comical experiences that had happened along the way," said Mandel, who retired in 2015. "So I decided that when [Maxam] came home from her chemo and radiation, which took a very long while, that I would send her a little snippet telling of one of my misadventures."
The Brooklyn native emailed Maxam virtually every day throughout the chemotherapy about her dysfunctional family, her travel anxieties, and personal problems with weight and body dysmorphia.
Stories such as how a cop pulled Mandel over and didn't give her a ticket because she was a "mess" and covered in fudge from the brownies she was eating while driving, made Maxam forget about her stress.
These stories would come into the Long Island native's inbox four-five times a week and made the days in chemo worthwhile and made Maxam laugh, which she believes is what cured her.
"Laughter therapy" is what the two colleagues call it.
Laughter has scientifically been proven to help people physically by relaxing muscles, release of natural painkillers or endorphins, and balance blood pressure as well as mentally by reducing stress and improving sleep, according to Cancer Treatment Centers of America.
"[The stories] were so funny that I wanted to share them with friends and family so I started, after the first month or so, creating a Word document and every time I got an email from her I'd put it into this Word document and then I would send them out to my friends and family," said Maxam, who's been at Pace since 1989. "A month or two into that, I said to her, 'you should really make a book out of this and let other people share in the joy.'"
Mandel hesitated initially, but after relating her writing struggles to the struggles students she's taught, she caved in and decided to turn the assortment of emails into a book in 2015.
"I was frightened because I'm not an author," Mandel said. "I write well, but I never entertained using that medium, I always used verbal expression, hence me teaching speech classes. My degree is not in public speaking, my Ph.D. and two of my three masters are in speech pathology. I am very much aware, for both adults and children, hardships and things that must be overcome."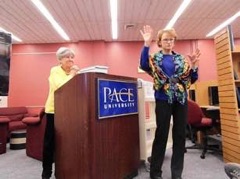 Her book, Letters to Dr. Wiggy, became available this Jan. 17 and 300-plus copies have sold, as of February. Its sole purpose is to help give others going through hardships a laugh and uplift.
One-fourth of the proceeds garnered from the book sales go towards cancer research for the Susan G. Komen Foundation, which Mandel has belonged to for the past 26 years.
"This is not a book about cancer, it's a book about laughing," Mandel said. "It's a book about bringing humor to situations that need humor [like] illness, stress, addiction, depression or just an uplift for dealing with the world stage and seeing what has happened."
Maxam went into remission eight months after the initial diagnosis, the emails continued, and much like a book, a new chapter began for the two.
The book's final chapter, "Cancer: An Unwelcome Visitor," revealed Mandel's diagnosis of CML (chronic myeloid leukemia) in 2014.
The Relay for Life advocate admits she's not as funny as Mandel, but she returned the favor and keeps in constant contact with her friend of more than 16 years.
"I am eternally grateful to her for using laughter therapy to help me recover from cancer," Maxam said. "[She] made me smile when I was at my worst. What more can you ask for in life? That's the most beautiful gift anyone could ever give."
The two are similar in innumerable ways, but the countless letters between the two bind their friendship better than the spine of any book.