Goldstein Fitness Center Welcomes New On-Campus Dining Option, Pace Fit
Sophomore accounting student Matthew Lasala found himself craving coffee and healthy snacks early in the morning. His search was to no avail, but he decided to turn the idea of an early morning eatery into a new on-campus business venture called Pace Fit.
"I like to wake up early in the morning, and get my coffee before I go to the gym," said Lasala. "Unfortunately, there's nothing on campus open on a weekend at 8 a.m., so that's when I got the idea to have a morning place. If it's going to be a morning place, it has to be in the gym, because that's the only building open in the mornings. If it's in the gym, it has to be healthy, so that's when Pace Fit came in."
Pace Fit promotes healthy eating on campus and will be selling snacks, protein shakes, smoothies, coffee, and other healthy options. Lasala had to follow a long and difficult process for this business venture to become a reality.
The Center for Student Enterprise (CSE) initiates and coordinates student-run businesses on the Pace Pleasantville campus. This began with Pace Perk in 2010, which has turned into an essential late-night dining option. Then came Pace Mart in the Mortola Library, Pace Delivers, an Uber-Eats styled option, and most recently, Pace Fit.
Lasala has previous experience working with CSE venture Pace Perk, so during his freshman year, he reached out to the General Manager with the idea of turning Perk into a morning dining option, as well as evening.
"They said 'we're a late night thing, we don't really want to expand,'" recalled Lasala.
He finally saw an opportunity through the Lubin School of Business to turn his idea into a reality.
"I attended an LBA [Lubin Business Association] event where they announced a Shark Tank contest," he said. "I lean over to Nicole Forgione, who is now our chief operating officer, and I told her I have an idea. Nicole and I have been working on it ever since. We found some other people in our friend group, like Matt Chance, to help us out, but we still needed a managing staff."
Chance believed in Lasala whole-heartedly but knew that creating a new business would be challenging.
"We're able to work very easily together, which is helpful," said Chance. "We figured if we really wanted to make this happen, we needed to put in the work and time and effort. Not all ideas work out, but luckily ours is headed in the right direction."
After they pitched their idea to Shark Tank and to the board at Lubin, they needed to start hiring staff members and filling out managerial positions.
"Now we have five managers," said Lasala. "I'm the General Manager, Nicole is Operations Manager, and we had to find a Marketing Manager, Chief Financial Officer, and a Purchasing Manager. I was getting approached by people who wanted to fill these positions, I sent out a ton of emails, we did interviews, and now we have our managing staff. Once we got our management team filled, I sent out an email to the whole Lubin School of Business, and people started applying for our staff on careers.pace.edu, so now we have three assistant managers and a full staff of 18 people."
Because Pace Fit is a startup, it had a lot of hurdles, including trying to find the best location and making sure their kitchen is up to the Health Department's standards.
"Since we're preparing fresh fruit and dairy, we had to get a health permit, which has a four week waiting period," said Lasala. "We set our opening day as March 10, but only with prepackaged things. Fortunately, we got around the waiting period and were approved faster. We could now start construction on March 11, which will take about three or four weeks, so we hope to be open by March 31."
The next obstacle Lasala's team had to face was the location of Pace Fit. He always knew he wanted it to be in the gym but he had to work directly with the Athletics Department to find an available space that would be convenient for the Athletics faculty and staff, as well as students who wished to visit Pace Fit.
"The concession stand is only open during basketball games, so we pitched that we would use the space when they aren't operating, and they said no," Lasala explained. "So then we thought we could be in the lobby, or even have a truck outside. They said no to this, too. Eventually, we met with the Assistant Athletic Director and Women's Soccer Coach Mike Winn to get us in the lobby. Ultimately, it would've been too expensive, so he put us in the concession stand anyway."
Lasala admires the assistance that Winn has given to him and his team in order to make Pace Fit come to fruition and looks forward to working with the women's soccer team at the concession stand.
"It's been great working with Mike Winn, he's been very helpful, he's even covered half of our staffing cost for the events," said Lasala. "He even came up with a plan to extend the concession stand three feet outwards so [we and the soccer team] could both work there during basketball games."
The tentative opening day for Pace Fit is March 31 at the concession stand in the Goldstein Fitness Center. They will accept payment methods including cash, and eventually, credit/debit cards, and Flex.
About the Contributor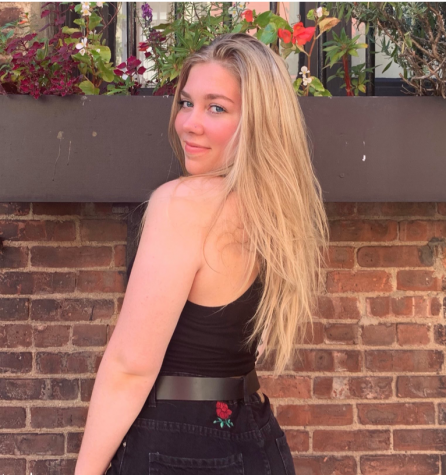 Sequoia Cumming, Editor In Chief
Sequoia Cumming is an honors-level senior majoring in Digital Journalism and minoring in Sports Media and Broadcasting. While starting as a contributing...