Wrongfully Convicted: The story of Pace University graduate, Jeffrey Deskovic '19 is told through award-winning short film, "Conviction"
Upon graduating from the Elizabeth Haub School of Law at Pace University in the spring 2019, Jeffrey Deskovic left with a law degree and one goal: to continue working to exonerate falsely convicted and incarcerated individuals, like himself, serving time in prison.
Earlier this month, the Sing Sing Prison Museum presented its monthly webinar special from a new webinar series, "Justice Talks." This webinar series invites people everywhere to participate in conversations regarding the criminal justice system, incarceration, and those directly and indirectly affected.
This month's webinar, titled "Wrongful Conviction," screened a 20-minute documentary, "Conviction," written, produced and directed by Jia Wertz which tells the story of Jeffrey Deskovic being falsely convicted of the rape and murder of a former Peekskill High School classmate at only 17 years old.
In 1989, shortly after the discovery of the victim's body, Deskovic was questioned by detectives regarding his involvement in the attack. Despite there being no record of Deskovic's DNA by the medical examiner, Deskovic says he underwent heavy interrogation without a parent or guardian present, was given numerous cups of coffee but no food prior to polygraph tests, and experienced aggressive police tactics for multiple hours straight in hopes that he would confess.
In the Q&A session following the screening of the film, Professor Brandon Garrett, Director at the Wilson Center for Science and Justice at Duke University School of Law and author of Convicting the Innocent: Where Criminal Prosecution Goes Wrong, stressed the use of deception as a police tactic, which had ultimately led to Deskovic's false confession.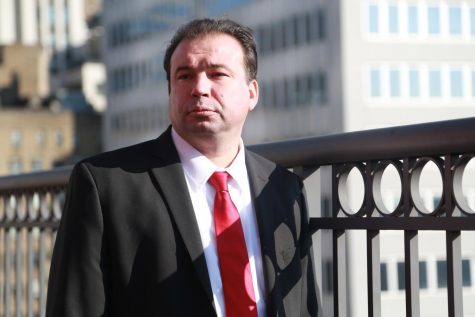 "Not only can someone say 'fine, fine, if you let me out of this room, I did it,'" Garrett tells the panel, "they can offer details carefully fed to them by law enforcement then make it seem like they knew exactly how the crime happened and this confession contamination problem is a really disturbing one."
After a 28 day sentence in solitary confinement, 11 years of attempting to appeal his case and every attempt being declined, Deskovic spent four additional years writing letters seeking legal help in finding additional evidence to prove his innocence.
"I went to the parole board and then they turned me down as well. So, at that point I thought I was going to die in prison," Deskovic says.
Deskovic kept a pen pal during his time in prison. He says that during this time of losing hope, writing his pen pal played a great role in his drive to continue his fight to freedom.
"Writing my pen pal and back and forth and him encouraging me to keep going, I think, was definitely a major factor in my motivation to keep going," he stated.
After spending 16 years in prison, DNA evidence from Steve Cunningham, the actual perpetrator, was found on additional items tested, proving Deskovic's innocence. In 2007, Cunningham confessed to the crime.
"I was angry for the first week and then I felt like this anger is destroying me, you know, I've got to let this go," Deskovic says, "I lost so much and I don't want to, in effect, lose the rest of my life and the vehicle that allows me to actualize that is I take that energy and channel it and it fuels the advocacy work that I do."
Post release, Deskovic used a portion of his settlement compensation to launch the Deskovic Foundation, a non-profit organization dedicated to exonerating the wrongfully convicted and wrongful conviction prevention. This past spring 2019, Deskovic received his law degree from the Elizabeth Haub School of Law at Pace University and is now an attorney. His acceptance to Pace has allowed him to maintain his personal life and continue his advocacy work all while attending law school. He says he and the foundation's next steps are using this credential to continue exonerating wrongful convictions.
"Initially, I'm going to enter some of the 10 cases that are already active as co-counsel and I'm going to continue to push for policy changes with the extra credential," Deskovic says, "and at some point, I'll be the lead attorney representing some of the clients myself."
Jia Wertz's short film, also her debut film, "Conviction," documenting Deskovic's story has won multiple awards including Best Picture at the Georgia Shorts Film Festival, Best Cinematography at the Georgia Documentary Film Festival and the Award of Distinction at the Canada Shorts Film Festival. According to Wertz, the short was meant to answer one question, that question being: how is someone who is innocent impacted by wrongful conviction and how do they reintegrate back into society? Wertz has disclosed that a feature length film is in the works, diving deeper into Deskovic's trial, and other aspects like the psychology behind false confessions and DNA testing.
The Deskovic Foundation has freed 10 individuals to date and is continuing its advocacy for wrongful conviction prevention while working towards exonerating those who are currently serving time under wrongful conviction. For more information on the Deskovic Foundation and Jeffrey Deskovic's experience, visit www.DeskovicFoundation.org.