RV Adventures: Heaven Swan continues her education while road tripping around the country
With the change to online classes and the chance to attend her classes remotely, senior Heaven Swan decided to take advantage of the opportunity, packed her bags and hit the road with her partner for the trip of a lifetime: a road trip around the country. 
This past November, only a few days after the Thanksgiving break, Swan and her partner, Neil, made the decision to purchase and completely reconstruct a recreational vehicle (RV) to live and travel the country together while pursuing their collegiate education online. 
"His parents are moving out of state so we could have done long distance [relationship], but we decided to do an RV," says Swan.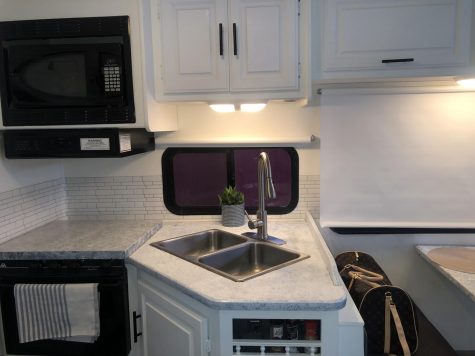 After purchasing the RV, Swan says the renovations took about a month to complete. The renovations included tearing up the carpets and replacing them with hardwood floors, and installing a new sink, toilet and furniture. Once the renovations were complete and the two were packed, they left New York and headed South. 
Since they left New York in November 2020, the two have stopped in Pennsylvania, Virginia, South Carolina, Florida, Louisiana, and are currently in San Antonio, Texas. 
On days that they are not traveling, Swan and Neil stay in an RV park where they can keep their vehicle parked and gain access to electricity, water and wifi. Here, the two students follow their daily routine and attend their classes and internships and complete their work that requires access to the internet and electricity. 
"[On] a day that we're hooked up, we'll wake up at, like, 8:30 a.m., we'll go to the gym, then we'll come back here and shower, and then I have class for a really long time," says Swan, "I volunteer at Westchester Medical Center and that's online so I make those calls, it's normally, like, an hour and I'm also shadowing an OB-GYN at San Antonio."
While on the road, Swan had gotten the opportunity to shadow an obstetrician-gynecologist at her private practice based in San Antonio, Texas. Since she and her partner have no set schedule for their travels, Swan took advantage of the opportunity and the two have spent the last month in San Antonio while she pursued her commitment. 
On a typical driving day, Swan says that she and her partner drive for approximately five to six hours towards their destination. If they do not make it to their destination within those hours, they call it night and will pull the RV into a Walmart or Cracker Barrel parking lot, where they can stay overnight without a charge. Since these parking lots do not provide electricity or water, they rely on the RV's generator for power.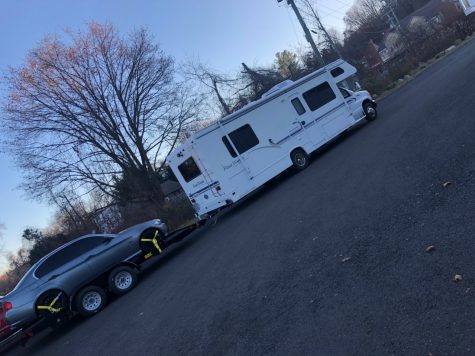 Swan and Neil rarely stay in hotels and spend most of their nights in the RV. Swan says that the only time they did not stay in the RV was when they were traveling in Florida, as it was difficult to maneuver such a large vehicle through Miami and the Florida Keys. They also keep a hauler attached to the back of the RV that tows their BMW so that they can further explore the cities they visit. 
Despite being in the midst of the COVID-19 pandemic, Swan says that she and her partner have not experienced many COVID-19 restrictions or limitations to their travels. Nevertheless, they continue to do their part by getting tested regularly and keep a thermometer in their RV to take their temperatures daily. 
Both Swan and Neil's families have been supportive and encouraging of their decision to leave home and travel independently. 
"Everyone is super supportive," Swan says, "they said 'when are you going to do this? If you don't do it now, you're going to do it when you're like, 70 years old.'" 
According to Swan, this road trip around the country is more spontaneous than it is planned, giving them the freedom to make as many stops as they want with no limit to how long they stay. 
"We're definitely taking our time," Swan says, "It's a loose itinerary that we have but with time, we'll stay somewhere for a few days, we'll stay somewhere for a month, a week. It depends on how we feel, everything's very loose."
As a first semester senior majoring in health science on the pre-PA track, Swan plans to continue her education at a physician assistant school following her graduation. While she is expected to graduate in December 2021 and is unsure of the details of next semester, she is excited to complete this semester on the road. As for their travel plans after this trip, Swan says they're taking it day by day. 
"We're very adventurous," Swan says, as they've enjoyed traveling together prior to this trip, "we're definitely going to travel more but we don't have anything in mind yet."
The two anticipate that after their stay in San Antonio comes to an end, they will continue moving west towards New Mexico and Arizona.