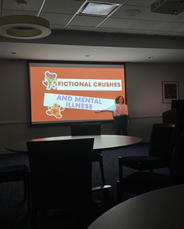 POWER, Pace's intersectional feminism club, hosted POWER-point night this past Friday in the Kessel Butcher Suite. POWER-point night is an event where a student can create a PowerPoint about anything they want and present it, allowing students to express their interests to their peers. Though this isn't the first time this event has been held. 
Amanda Rundle is the president of POWER. She shares how this event started last semester.
"So the idea of the POWER Point literally just came from me thinking about a pun: POWER point, that sounds really funny. And then I saw videos of guys making PowerPoints with their friends about stupid stuff so I was like, that would be nice to just actually have some event where people can make labor of love instead of labor of labor," Amanda said.
As the event began, the lights dimmed and the presentations commenced.  Silas Warren, a first-year student at Pace University, describes the presentation they created. 
"My presentation is My Atrocious Taste in Men", Silas said. "I thought it would be funny if I presented that."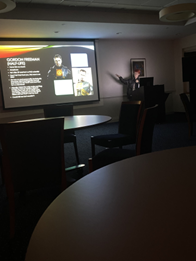 The presentations garnered a lot of laughs from the audience. Amy Linares, a sophomore at Pace University, shared which presentation she enjoyed the most.  
"My favorite presentation for POWER-point night was the one about this one dude's cat. It was so good, I love cats," said Amy. 
POWER-point night was a time when students could present whatever they were most passionate about, rather than something they made for an assignment. It was a night of excitement and laughs.