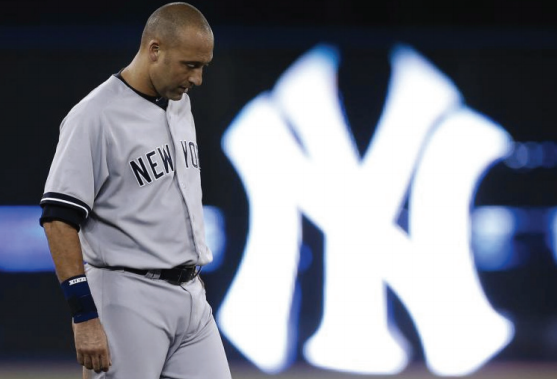 One of New York's legendary athletes will retire from Major League Baseball (MLB) after the 2014 season as the New York Yankees' captain and shortstop. Derek Jeter said in his statement released on Wed., Feb. 12 via Facebook, "The one thing I always said to myself was that when baseball started to feel more like a job, it would be time to move forward."
Even rivals are disappointed by his sudden statement.
"As a Boston Red Sox fan, I have the most respect for Jeter because he's an amazing player and has been the face of the [Yankees] since he started playing shortstop with them," freshman accounting major James Obuchowski said. "I was pretty upset, but at the same time he's had a wonderful career."
Jeter is completely respected amongst all baseball fans and his announcement was both startling and saddening. He's been idyllic and has been an impact on many young baseball players' lives. He has had a successful career in sports' toughest market and is about to come out unscathed.
"A generation is now over," said freshman business undecided major Joe Casarella, in reference to baseball losing two greats in back-to-back years. "[We] had the Core Four with Jorge Posada, Andy Pettitte, Mariano Rivera, and Jeter; after this year it's basically all over, time for a new generation."
Just last season the Yankees lost Rivera, as he too retired. Rivera is statistically baseball's greatest closer with 652 regular season saves and is what many consider to be the main reason as to why the Yankees have their World Series championships from 1996, 1998-2000 and 2009. Rivera is also the all-time postseason leader in saves (42) and ERA (0.70).
Casarella, a baseball player himself, grew up watching Jeter.
"He meant a lot," Casarella said. "I'm a New York Mets fan, to be honest, and the only players that I respect from the [Yankees] are Rivera and Jeter. I thought [Jeter] was the classiest player that I've ever seen play."
The Yankees' goal every season is to win another championship. It only seems fitting that Jeter would win his sixth ring in his last season as one of the Yankees' most famed players.
"I hope not," Obuchowski later said in reference to a possible Yankees World Series victory. "But they definitely stand a good chance just like how the Baltimore Ravens won in Ray Lewis's last year."
Ever since Jeter's retirement was announced ticket prices have soared. The New York Times reported that Jeter's final Yankee Stadium appearance was starting at $26. In nearly two hours of his announcement the price had risen by 350 percent.
"I was sad when I found out about Jeter. I couldn't believe it," said Yankee fan and freshman education major Nancy Tavarez. "[Jeter's] the greatest shortstop of all-time."
There is no easy way to justify what or who Jeter is, the only thing people can say is that he is the classiest player to play in any generation. From the Mr. November shot in game four of the 2001 World Series to his 3,000 career hit landing in the stands in left-center field Jeter defined a generation of baseball and stands taller and just as tall as the others he is compared to.