Let's Talk Mo'ne: Mo'ne Davis and Women's place in the MLB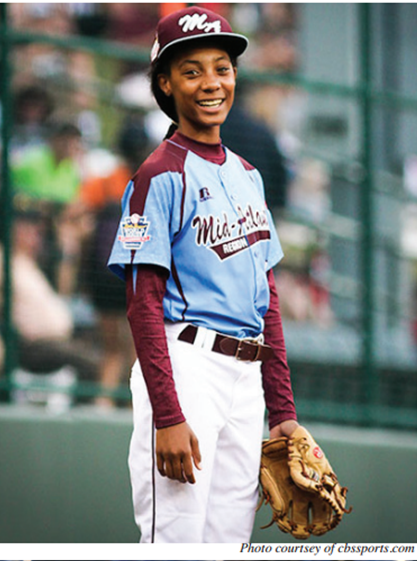 This summer, most college students were vacationing, interning, or working and waiting for school to start. Meanwhile, a 13-year-old girl named Mo'ne Davis found herself on ESPN, pitching in the Little League World Series.
Davis, a Philadelphia native, isn't the first girl to play in the Little League World Series. In fact, she and Emma March from Vancouver were the seventeenth and eighteenth girls to play in the Little League World Series this year. However, Davis is the first girl to earn a win out of five pitchers all-time. She pitched a complete game shutout, struck out eight, and only allowed two hits against Nashville.
"I was very inspired by [Davis] during the Little League World Series," said Natalie Gellos, a senior and a catcher/first baseman on Pace's softball team. "The fact that she is a pitcher, which is a very stressful and demanding position, is even more remarkable, and, quite frankly, because she is a girl, there was even more scrutiny on her. I thought she handled the media attention very well and that speaks a lot about her character and maturity level."
After just one dominating start, Davis gained recognition of stars like Los Angeles Angels' outfielder Mike Trout. She would participate in numerous interviews and later meet the Philadelphia Phillies team.
All of this leads into what used to be considered a feeble thought; can a woman play professional baseball? With what Davis has accomplished on the diamond, this sentiment has drawn mixed opinions. Generally, people do not see it happening.
"I wish I could say yes, but I don't think so," Gellos said. "This not because I doubt the physical ability of women, but because…you don't see many women playing baseball during or after high school…. For the most part, [girls] are forced to switch to softball."
Ironically, Gellos played baseball until high school where she had to take up softball. At 11-years-old, playing on a baseball All-Star team, she was told she was "not bad for a girl." Gellos didn't take offense, but realized the separation.
Both Gellos and Ryan Mihalkovitz of Pace's baseball team compared the issue to that of Jackie Robinson as the first African American Major League Baseball Player.
"The first woman to play in the MLB would have to have some serious mental toughness, no question about it," Mihalkovitz would later say. "She would have to have the same fortitude that Jackie Robinson possessed."
So far, Davis has not expressed interest in an MLB career. Instead, she hopes to play for UConn basketball and the WNBA.