Farewell Captain: Pace Bids Adieu
How One Person Influenced So Many Lives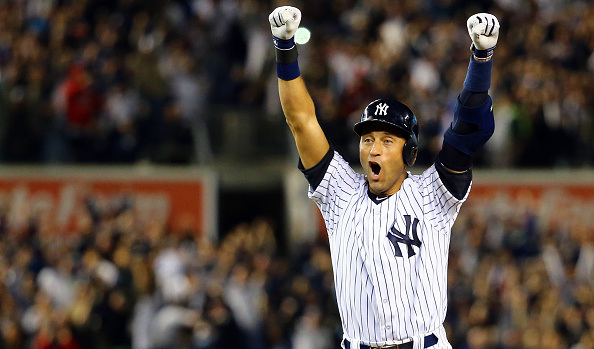 Humble. Talented. Iconic. Private. Legend. These are just some of the words that can be used to describe Derek Jeter, former shortstop of the New York Yankees. Pace students got a chance to not only reflect on Jeter's career, but also show just how influential Jeter has been in their own lives.
The Captain said goodbye in dramatic fashion (nothing new there) on Thurs., Sept. 25, by hitting a single in the bottom of the ninth that won the game for the Yankees, beating the Baltimore Orioles 6-5.
"Wow, what a way to leave," said sophomore accounting major James Obuchowski. "It's not quite often you see a storybook ending like that to such a decorated career."
Despite rain in the forecast, the stars aligned for what turned out to be a beautiful, rainless night.
"My initial reaction was of course it would have to end this way in his final game," said sophomore and communication arts major Gabriel Rivera.
"From the all-time low to the all-time high," Robertson was quoted saying in a New York Times article.
But Jeter's impact on Pace students hasn't just been eliciting congratulations on the end of a career. Several Pace athletes have seen Jeter as a role model over the years.
Each person has taken something different away from watching the Captain over the years, regardless of where they come from. Despite coming from the west coast, senior catcher Natalie Gellos has looked-up to Jeter her whole life.
Being a Mariners fan, Gellos remembers the day when she would try and imitate Jeter by fielding groundballs like him, despite not being able to do it as flawlessly as him.
"I'd always try to jump up, twist in mid-air, and throw," said Gellos, who is majoring in criminal justice. "Unfortunately I am not Derek Jeter."
Pitcher Dylan Mouzakes played shortstop as kid and mentioned how he would sit on the computer for hours to watch Jeter's "mannerisms" in order to try and replicate him.
Years later Mouzakes still sees Jeter as a role model but on a more "mental and off the field" aspect; Jeter provided him with a little dose of reality, showing him that there will be good days and bad days; you just have to keep marching on.
"You will never see Jeter throwing a helmet or smashing a bat when he gets out because he knows seven out of 10 times he's going to get out," Mouzakes said. "He never lets one play or one at bat affect him because he knows there will be another one. This was a valuable lesson to me as a pitcher. Sometimes you'll have bad games but you can't let that make you feel like you're bad. But then you might also pitch a perfect game but that doesn't mean you should get on your high horse and get cocky."
Jeter's mental toughness and humility taught Mouzakes to ground himself, something that he can take with him no matter where his path leads him.
Teammate Josh Garran learned a lot from the little things that have left an impression on him. Seeing Jeter spend so many years in the spotlight Garran has learned that every little thing gets scrutinized and picked apart.
Jeter taught him that no matter what you are ultimately in control of your own reputation by doing everything right both on and off the field.
"He also taught me to hustle at all times even if you are not the center of attention," Garran said.
Senior Jeanie Drury has a personal bond with Jeter as she was able to meet him briefly over the summer during her internship with the New York Yankees.
Drury describes how Jeter made it a point to introduce himself to her, "not as Derek Jeter, but as Derek."
"I think that, in itself, shows you the kind of person he is," said Drury, shortstop for the Pace softball team.
Jeter's influence has spanned across all areas, from athletes to students. Jeter's work ethic, character and embodiment can teach anyone.
The retirement of Jeter not only means the end of an era, but also the end to last chapter of many childhoods.
"Jeter was the one constant I could look forward to every baseball season since I was a kid and to know that I will never see him play again is hard," said Rivera. "He is the embodiment of what you want out of a person."
All that's left to say is thank you, for the memories, for the lessons and for many of our childhoods.