The Tommy John Epidemic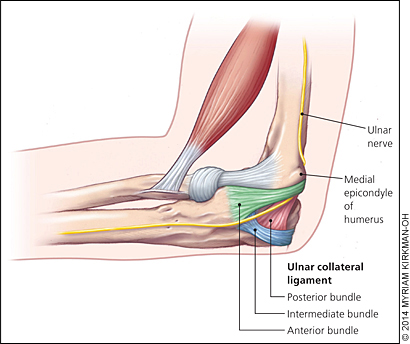 Imagine doing your favorite activity. Imagine the adrenaline rush and the smile it puts on your face. Now imagine something impeding your ability to do that activity temporarily or forever. This is exactly how many baseball players feel due to ligament damage in their elbows.
Tommy John Surgery (TJS) is the reconstruction surgery of the Ulnar Collateral Ligament (UCL). This ligament holds together two bones within the arm. The general area is the elbow. Dr. Frank Jobe, whom has passed on since, performed the first surgery on Los Angeles Dodgers pitcher Tommy John—the surgery's namesake— in 1974.
It has affected big names, from Matt Harvey of the New York Mets to young studs like Jose Fernandez of the Miami Marlins.
It is not so much reconstruction as it is a replacement. Surgeons will generally take a tendon from elsewhere in the arm or hamstring and replace the torn UCL.
Usually, the signs are pain within the inner elbow or drop in velocity. Sometimes it is because of the wear and tear over years.
"A lot is technique and mechanics," said Barry Moriarty, Head Athletics Trainer. "There's a lot of torque inside of the elbow generally when pitchers throw pretty hard. There's a lot of leading with the elbow on a throw, there's a lot of tension there and the [UCL] holds it together."
There is an 83 percent success rate for MLB pitchers to return and pitch at least one game in the majors and a 97 percent rate to pitch in the Minor Leagues or higher, according to Newsday. Sometimes pitchers come back even stronger.
"[The rate is] so big because they come back stronger sometimes," Moriarty said. "It's probably not so much because of the surgery, but the rehab they do after. Once you have the surgery, there are seven to eight months of rehab."
Baseball is not the only sport where TJS may be needed. It's been seen in football or track and field events like the javelin toss. However, it is more common in baseball.
"Epidemic" is not the correct name just yet, but it has become a surgery of choice. From 2000 to 2011, the MLB averaged 16 TJSs a year and peaked to 20 in 2007, according to ESPN. In 2012, the amount of TJSs spiked to 36 players, then dropped down to 19 in 2013 and 2014. The 2015 MLB season has seen seven necessary TJSs. One was Christian Vasquez, a catcher for the Boston Red Sox.
There is a lot of speculation as to why this is happening, yet physicians, doctors, and specialists do not understand its recent spikes.
But it is not just professional athletes. This is a big deal in the lower tiers of baseball, including Little League, high school, college, and the minor leagues. That's where many experts think elbow problems begin. With all the different summer leagues and travel teams, there is a lot of over usage.
"The younger ones are getting this probably because they are throwing a lot more than they should be throwing," Moriarty said. "More off-speed pitches—sliders and curveballs. Basically putting a lot of stress on that elbow at a young age."
It's affected pitchers at Pace too. According to Moriarty, over the past two seasons around four to five pitchers have had TJS.
"Some kids are crazy about [conditioning]," said Josh Garran, junior and starting pitcher for Pace. "It's like I go to do this, and this, and this. [Players] ice, stretch, things like that. Before, the day of, and after."
Garran keeps healthy and is lucky enough where he does not even ice his throwing arm. Just like Garran, Dylan Mouzakes, junior and starting pitcher, also has been fortunate with a healthy arm.
"I've been gifted with an arm that bounces back quickly," Mouzakes said. "I know when I was little I would pitch, catch the next two days, and then pitch again. I throw a lot anyway on my own time. It's kind of crazy, but that's just how it is."
There's definitely is cautiousness in approach to workloads and close monitor in pitch counts by both coaches and pitchers. Generally, Pace relievers will throw around 30 innings and starters will throw around 60 innings.
Tommy John is growing more and more common with every baseball season.
There have been some unique cases within softball, where players needed to opt for TJS, but for the most part, softball players are much less prone to this sort of injury.
Softball Head Coach Claudia Stabile has been coaching at Pace and been around softball for more than 30 years and has never encountered a pitcher who needed TJS.
"[TJS] is not really prevalent in softball," Stabile said. "The underhand motion doesn't put the same pressure on the elbow, unlike baseball. It's not nearly as prevalent. Rotator cuff injuries are the more common injury."
Softball pitchers have thrown more innings than baseball pitchers, according to Stabile. 150 IP is common every year and it's because the windmill windup is a more natural motion as oppose to overhand.
The MLB has spawned many campaigns to fight off these injuries; from armbands that are supposed to protect the UCL to computer imaging that helps monitor angles for pitchers' arm slots. The MLB and baseball players everywhere are looking for ways to mitigate this growing problem, and hope to be able to get results in the near future.