Swimming and Diving Teams Shine at NE-10 Championships, Readying for Metros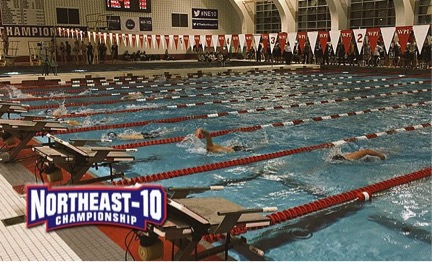 Pace men's and women's swimming and diving teams both placed fourth at the 2016 Northeast-10 (NE-10) Championships and broke 24 school records from Thurs., Feb. 4 to 7 at the Worcester Polytechnic Institute.
The teams took part in the most important meet of the season where the men's competed against the seven NE-10 conference teams, while the women competed against the nine NE-10 women's teams. They scored 500 and 551.5, respectively.
Sothern Connecticut State University and Assumption College took first in the men's and women's, respectively.
"I'm happy [with how we placed] because of how we placed last year, but I think the relays hurt us," said Jakub Lewandowski, captain of the men's swimming team. "I wanted top-three, but at the same time I'm happy with how we performed. I know we performed as best as we could and we weren't going to go faster than what we did."
In total, Pace took home eight medals and broke 24 school records. In 2015, the men's placed 7/7 in the championships and the women placed 5/9.
Day one of the meet included the 200-yard medley and 800-yard freestyle. In the 800-yard, the men and women set a record time of 7:00.14 and 7:50.16, respectively.
Freshmen Brian Sosa and Alexander Dimcevski earned third place in the 500-yard freestyle and 200 IM with times of 4:37.68 and 1:54.38, respectively on the second day. Freshman Nianzhong Liu took home a silver medal for his program-record 20.84 in the 50-yard freestyle. The 400-yard medley relay team posted a record time of 3:22.73 and took second place and freshman Alexis Heiney placed third in the 1-meter dive.
Day three was the best, performance-wise.
Pace had five top-three finishes and broke eight program records. Heiney placed third again in the 3-meter dive while freshmen Andresious Cyprianos earned a silver medal 100-yard butterfly with a time of 49.61. Dimcevski set a program record in the 100-yard backstroke with a 52.07. In the 100-yard breaststroke, Liu won gold for a record 56.13. The men's and women's relay teams placed second and fourth in the 200-yard freestyle, respectively.
The final day concluded the 2016 NE-10 Championships. Sophomore Madison Kiefer broke her own program record in the 1650-yard freestyle with a time of 17:33.86 while freshman Daniel Galarza and sophomore Brian Sosa both finished top-three on the men's side. Heiney won a silver medal in the 3-meter diving event. The 400-yard freestyle ended the night with the women's team placing fifth and the men's placed second and won silver medals.
"I think the entire team was tapered very well," said Heiney, who is a diver for the women's diving team. "The entire team did what it needed to do. A lot of the swimmers were very determined this year."
Head Coach Dan Allen understands and sees the young talent on his team, but would rather attribute the success of the teams because of chemistry over the course of their five-month season.
"They swam beyond my expectations," Allen said. "I view the [NE-10 Championships] as a team atmosphere meet, not an individual meet and our teams approached it as a team meet. They cared about how each other were swimming, supported one another, and that's why we did as well as we did, because of [team atmosphere]."
For that reason, they still feel ready for the next meet on the schedule. Both teams are now preparing for the Metropolitan Conference Championships on February 19. Swimmers and divers are allowed to choose which events they take part in. It is a more "laid back" swim meet.
"We're taking our roster [to Metros], we're going to compete there, we will swim some different events, but many are still swimming their primary events, and it gives us a chance to swim," Allen said. "For me, it's another chance to evaluate not only how we're swimming after the championships."
The teams are currently in taper and are resting up for the competition.