Athletics to Induct Five Athletes, 2000 Volleyball Team to Hall of Fame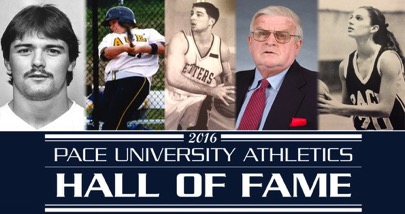 Pace Athletics plans to induct five athletes and the 2000 volleyball team to the hall of fame, according to announcements released on March 3 and 4, respectively.
The 2016 Hall of Fame class includes Rich Johnson (football '87), Suzette Gehl (softball '99), Todd Ziogas (men's basketball '98), former Athletic Director Joe O'Donnell ('97-'11), and Ginny Ziogas Torreso (women's basketball '96).
"These outstanding individuals excelled both in competition and in the classroom during their careers at Pace, and they continue to make our community proud in their professional careers," Athletics Director Mark Brown said.
Johnson was a wide receiver for the football team and currently holds record for the most receiving yards (2614) and receptions (188) in his career, the most receiving yards (1143) and receptions (75) in a single season, and the most receiving yards (222) and receptions (20) in a single game.
Gehl is placed top-5 in multiple softball career categories. She's second in career batting average with .403, she's third in career hits with 184 (38 being doubles also another record), and first in career runs batted in with 119. Gehl was named Pace Female Athlete of the Year for 1998-99.
Ziogas and Ziogas Torreso, who are brother and sister, own a plethora of career accolades.
Ziogas Torreso scored 1540 career points, which is fourth all-time in women's basketball. Ziogas is first all-time in men's basketball for assists (475) and single-season (163). He's tied second for all-time points (1892) and fourth in 3-pointers (188). They both won Letterwinner of the Year in 1999 (Ziogas) and 1996 (Ziogas Torreso).
O'Donnell was the athletics director during one of Pace's most successful periods. Athletics won several Northeast-10 (NE-10) conference titles, softball ECAC championship, and countless NCAA tournament appearances. O'Donnell also played key roles in the creation of the Goldstein Fitness Center in 2002 and Pace's transition to the NE-10 conference.
The Team of Distinction award goes to the 2000 volleyball team who achieved a 35-5 overall record and went 14-0 against the NE-10. They won the NE-10 Tournament and NCAA Regional Championship. They also won 23 straight matches with a roster of eight players.
"The Hall of Fame was established to honor the contributions of our former student-athletes and administrators," Brown said. "We congratulate our newest inductees on their selection for the Hall of Fame and our Team of Distinction."
The induction ceremony will be held on Friday Apr. 29 at the Willow Ridge Country Club in Harrison, NY.