Baseball Looking at Important Stretch Before First NE-10 Matchup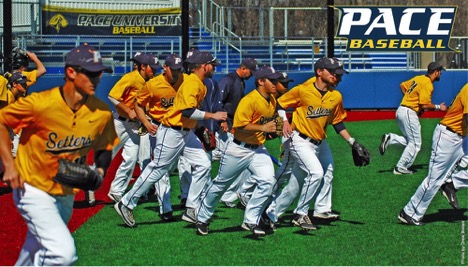 The Pace Setters baseball team (7-6, 0-0 NE-10) has won its last three games and is in a good position to do damage before their first NE-10 matchup next Friday against Southern Connecticut State University.
Pace is 4-1 in its last five contests, three of which came against Dominican College last Friday and Saturday. After an 11-3 loss on Friday, the pitching staff sparked the team as pitchers Josh Garran and Dylan Mouzakes combined for 16 innings pitched, 14 strikeouts, and two victories on Saturday, March 12.
"From our pitchers to our hitters, we definitely always go down swinging," said Garran, who tossed a complete game against Dominican. "The late inning win against Dominican on Saturday was a huge game for us and a big win for our confidence. We stopped our losing streak and now we've won three straight."
Mouzakes threw a complete game as well.
The offense has capitalized in multiple games such as the home opener and their 7-4 victory over Post University on Tuesday. After third baseman Nick LoBello's bases loaded double play, an error by Post allowed two runs to score followed by catcher Frank Mayo's RBI single that put Pace on top 5-4. They'd go on the win 7-4.
"It's also a good feeling to not play to our full potential and have three wins to show for it," said LoBello, who's fourth on the team in batting average (.286). "It makes us see how good we can be if we play our best baseball."
However, it's not to Head Coach Henry Manning's liking.
"Offensively, we're just looking to have good at bats and good situational hitting, which at times hasn't been good over the last couple of games," Manning said. "[We're] working real hard on situational hitting and just to remind guys that do your job and we won't have to rely on an error."
Manning said the first chunk of games before the first NE-10 matchup is "Spring Training" games that count and he'll have to gauge what he has, but feels ready to go for the next string of games.
Manning's worried about the offense going into a slump all at once along with situational hitting. However, the pitching staff overall remains a question mark, according to Manning.
"Right now I feel comfortable with a couple of guys in our rotation, but we're still trying to figure out the backend of our rotation," Manning said. "We're trying to figure out [the bullpen] too. It's closer by committee or bullpen by committee. At this point in the season you hope your starters can go six/seven innings to shorten the game and right now I feel we're a couple guys short of that."
The baseball team will travel to North Carolina for their next three games against Dominican College, Dowling College, and Franklin Pierce University. They'll come back on Friday, March 25 to play So. Connecticut State University.
Starter Ryan Aquino and the Setters will welcome Concordia College at 3 p.m. today at Peter X. Finnerty Field.