Setters Profile: Ryan Calmon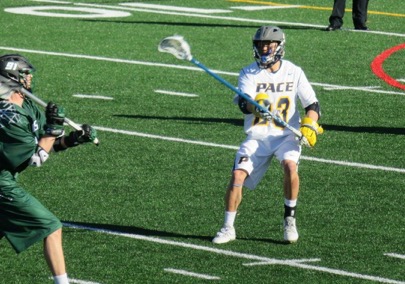 Ryan Calmon has been waking up every morning to a list of goals written on a sticky note and posted to his dresser. The Pace junior has jotted down his expectations for the semester since he was a freshmen.
The standards were always high, but kept getting higher and transitioned every semester. Calmon sticks to three or four goals such as making Dean's List, a 3.5 GPA, and NE-10 Commissioner's Honor Roll.
He marked Academic All-Conference—having good grades and participation to their team—for this semester.
"I feel like if you are not bettering yourself you are hurting yourself and to do that you have to set goals," said the five-foot-10-inch midfielder. "I'm very goal driven and I always have been. I like to set a high standard for myself."
Calmon never played lacrosse until the summer before high school where he and his friend took two lacrosse sticks and started throwing a ball around. The next goal was set from there.
"Schematically it is similar to basketball, the physical contact is similar to football, and skill wise I think it is similar to baseball," said Calmon, who grew up playing baseball and football. "It was just a fast game, it was up and coming, and I was not good at it, but I like challenging myself and it motivated me."
Calmon tried out and made the first freshman team at Brick Memorial High School and his goal was to learn everything about lacrosse to get recruited. He spent summers attending college lacrosse camps, observed youth games, and watched the Big City Classic—a college lacrosse triple-header event hosted at the Meadowlands.
Brick Memorial ended up making it to the conference playoffs, but lost and he earned team captain in senior year. His commitment to lacrosse could be checked off as he was then recruited by Pace.
It was his dream since high school to play college lacrosse. He was nervous and in awe in his first collegiate game against the defending champions Le Moyne, but he knew he completed that goal.
"It's like an all-star transition," said Calmon, who does not start anymore. "You're the all-star on your high school team and now it's a team of all-stars, which can be tough, but it's something you have to accept and you have to be supportive of your teammates."
The business aspect of a sport is understood and that 20 other players are playing for a spot too, so he'd have to work harder. The unselfish nature was instilled through his family and it resonates with his team.
"He's a tremendous and committed man," Head Coach Tom Mariano said. "It's great having a guy like that on the team who sets goals whether they make it or not it's a great example to others that he sets goals."
He also knows academics comes first. As a result, Calmon's a part of five different honor societies at Pace such as National Residence Hall Honorary and Golden Key.
"[When I was looking at schools] I would look at the academic aspect before anything because that is ultimately what I wanted to do," said Calmon, who wants to work in federal law enforcement. "That's why you go to school. Pace was the best median for me academically and athletically."
With every goal comes an obstacle, however. Calmon learned on Apr. 18 his patellar tendon was torn.
"I got an MRI on my knee and now I'm out for the season," Calmon said. "You have to worry about things you can control as oppose to what you can't."
His next goal: do everything he can to get back out there.