Setters Profile: John Kukura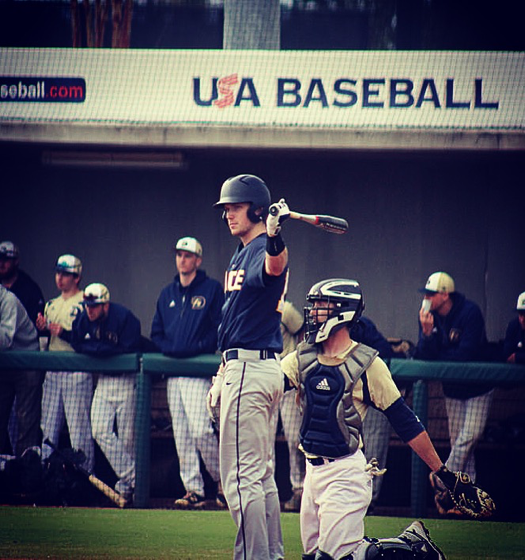 A blue jay flew past John Kukura as he stepped on the field of Zukor Park and from a tree watched him play his little league baseball game, then left when the game ended.
The Pace center fielder's mother, Rita, told him that a blue jay and a cardinal are symbolic of a relative that passed away. Kukura's grandfather on his mother's side, Jack O'Brien, was buried the day prior.
The New City, NY native, plays baseball for multiple family members, but his grandfather holds a special spot because he was the one who sparked Kukura's love for baseball.
O'Brien died in 2008 of a heart attack brought on by lung disease. He was a self-made man who founded the VIP Prompting Company in 1966 and had 10 children, three whom were handicapped. His motto was, "it is what it is," which meant he had to take what he was given and run with it.
"He was into baseball, which I guess was a good thing for me because we always talked about baseball," Kukura, a junior accounting major, said. "I was close with him and he told me, 'you are going to be something great one day and I can see the potential.'
"He saw [the potential] in me. His line, "it is what it is," means, whatever happens, you got to roll with it. I wrote that down [on my hat] as a memory for him. I see it everyday and I know he is here, he is watching me."
Kukura utilized that saying in the seventh grade when his coach threw a baseball that ricocheted off his helmet and broke his left eye socket during practice.
It was a possible career-ending injury.
The bone broke just the right way, however, according to his mother. John Kukura was back in the facility taking batting practice a couple weeks later.
The quote resonated even more his junior year of high school when a torn hamstring prevented him from playing. Recruits paid little attention to him. He did not have an easy situation, but like his grandfather said, "it is what it is."
"I [was not] planning to get injured, but it happens and that is something that I had to take in, accept the injury, and be like, 'how am I going to bounce back from this?'" Kukura said. "When life throws you something you got to take what it is and got to handle it. I was not going to let [injuries] stop me from playing."
The next year Kukura came back stronger to win Rockland Player of the Year at Clarkstown South High School. He received offers from Rockland Community College, University of Richmond, and Pace.
Pace baseball Head Coach Henry Manning and Assistant Coach Grisha Davida were at Kukura's practice field at Pearl River High School when they came across him listening to music in the dugout.
"We saw some good athletic ability, he had an ability to run even though he had some hamstring issues, had a good short stroke to the ball, and was something we could not pass up at the time," Manning said. "He does not take anything for granted. He works, listens, very coachable, but he does not take a day off, which is what you want."
Manning sold him on the vision he had for the team. Pace was 33-17 in 2013 the year before and Kukura wanted to be a part of a winning program. He found his niche after a few years.
Kukura finished the 2016 season with a team-best .341 batting average, 15 doubles, and 8 triples, a program record.
"It's a great baseball environment," Kukura said. "We are always into the game, we are always cheering for each other, joking around, keeping loose in the dugout. That's probably one of the reasons I love playing here so much because of them."
Pace was far enough for Kukura to have a college experience, but close enough for him to easily return home. His family, like the blue jay, comes to watch him play as much as possible.
"When [the blue jay] flew at John, I mean it flew at John," Rita Kukura said. "We all knew that was grandpa."
The blue jay no longer occupies its perch on a nearby tree, but Kukura still feels its presence.