Seven Years After Tragedy: The Life and Legacy of DJ Henry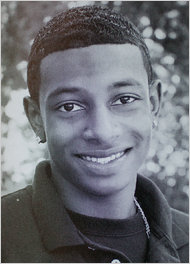 Kwadar Ray, Managing Editor
October 21, 2017|2,258 Views
It was a late autumn night after Pace's 2010 Homecoming game when Cornell Craig awoke from his sleep, checked his phone, and realized he missed a phone call from then Pace Football Head Coach Chris Dapolito.
Craig, who is currently the Director of Multicultural Affairs & Diversity Programs at Pace, was a member of the coaching staff that season. Craig was very confused, as he wasn't used to receiving a call this late in the night from Dapolito. So, concerned, he call back.
It was during that late night call on Oct. 17 when Craig was informed that Danroy "DJ" Henry was shot and killed outside a bar by Pleasantville Police officer Aaron Hess.
Craig could not fathom the thought: One of his favorite players was gone.
"DJ had a thirst for knowledge and a passion for life that was obvious when you came across him," Craig said.
Henry also had a strong passion for football and that was proven when he was willing to switch positions from wide receiver, which he played during his time at Iona College, to cornerback for the good of the team.
"He wanted to play receiver, but at that time the team needed more help all over. He was such a good athlete he could play corner for us," Craig said. "He was willing to sacrifice for the team."
Henry was not just a good athlete, his former teammate and friend Lyndon Johnson described him as a "freakish athlete."
"Some people are freakish athletes and they don't even have to try and DJ was definitely one of those," says Johnson, who attended Pace from 2008–'12. "We used to always crack jokes that DJ did not really have to work out to be in shape…this man had abs like a 300 character."
Henry, who hailed from Easton, MA., was a huge fan of Boston sports, which often led to spirited debates between him and teammates.
"DJ loved all Boston teams and most of us loved New York teams, so we used to argue and talk about sports forever," Johnson said. "We were going at it all day, he was always up for a good debate."
Despite Henry being a transfer student and living on campus for a relatively short time, he was able to become one of the more popular students in the community.
Henry was revered by his teammates and friends. He would give away gloves to teammates who did not have any and give car rides for those who needed one.
"Me and my dad had got in an argument and he took my car away, and DJ was like 'Just catch a ride from me,'" Johnson recalled. "He refused to take gas money from me and we rode together for almost a month and a half, and when I tried to give him money he would say, 'Bro we're family, that's not how I was raised.'"
There was a laundry list of good deeds Henry took pleasure in doing, including being a personal barber for multiple students on campus.
"We joked about how our house was the barber shop due to the number of people he gave haircuts," his housemate Adrian Mills remembered. "And he would never charge anyone for them."
Mills and Henry lived in the same Townhouse during a portion of Henry's time at Pace. Mills says he remembers Henry as someone who was never in any trouble or in the middle of any conflict.
The random acts of kindness Henry displayed throughout his stint at Pace is one of the reasons his death was met with immediate sadness and shock from the community.
"We just broke down in tears and was just in a state of shock…it was one of those moments you never want to relive," Mills said. "It took the life out of the [townhouse] and campus."
Even those who did not know Henry were impacted greatly by his death.
"The campus was dead silent, you could hear a pen drop," says Matt Indik, who was a freshman at Pace in Fall 2010. "Everyone really felt it, regardless if you knew [Henry] or not."
Of course, a community can never simply "get over" the killing of a peer. However, it is possible for a community to attempt to move on from a dark shadow clouding it, but that was a difficult process for Pace.
"It took maybe two years until his death was not in the back of everyone's minds," says Chris Lengers, who, like Indik, was also a freshman in 2010. "I think when something like that happens in a relatively small school and smaller community like Pace, it was harder for people to not think about it."
What made Henry's death even more difficult to swallow for the Pace community was the many unanswered questions surrounding his killing.
"I didn't think that was a possibility for him to get killed by an officer because he wasn't a bad person or a trouble maker," Craig said. "Not that anyone deserves to get killed by police, but he wasn't a trouble maker or an aggressive personality. So, when the narrative came out from the police reports that he was drunk and tried to run the police down, it didn't match anything that he was."
Legal battles in relation to Henry's killing continued until the Henry Family and the courts reached a $6 million settlement in 2016 and Mount Pleasant publicly apologized for his death.
However, no amount of money could bring Henry back. The devastation of Henry's death will never leave his family, but their strength through the past seven years is inspirational.
"The Henry family helped us understand life and to see how strong they were, made us feel stronger," Mills said. "His parents helped us get back to our normal lives because if they can be strong after losing their son, we can be strong too."
With the help of multiple co-sponsors, The Henry Family was able to create the DJ Henry Dream Fund, which provides over 7000 scholarships for children to attend summer camps, sports teams and fitness programs.
The Henry Family refuses to allow his legacy to die and Pace refuses too. Pace continues to hold memorials in memory of Henry's life and invite Henry's parents back to campus. The university also built a clock in the center of campus outside the Goldstein Fitness Center that remains on 12, Henry's jersey number.
"As time goes on, there are less students directly affected by his death, so that's why it was important to have something permanent in his name because it could be easy for DJ's name to just not exist in the culture," says Vincent Birkenmeyer, the Assistant Director of Community Development.
Birkenmeyer was the Student Government Association (SGA) President at the time Henry was killed. Despite not having much interaction with Henry while he was alive, Birkenmeyer now has a close relationship with Henry and his family.
"My relationship with DJ started after he passed away because as SGA president, I helped in the aftermath, supported students and began advocating to make sure DJ's legacy lived on," said. "I started taking it very personally and I was able to get to know his family."
Birkenmeyer says an ongoing discussion about police conduct, diversity and injustice is the best way to honor Henry's legacy on campus.
Craig shared a similar sentiment.
"To keep his legacy going we need to have a dialogue not only about the value of life, but also a discussion of social injustice in general and how it impacts all of us," he said.
Johnson believes Henry's lasting legacy is about family and loving those you are surrounded by.
"I hope that people will start cherishing the people around them," he said. "A lot of us get to a point where we start taking people for granted, so just enjoy people while they're here because one thing about DJ is that he was always about family and loving others."