Growing Pains Nonexistent for Swimming and Diving Freshmen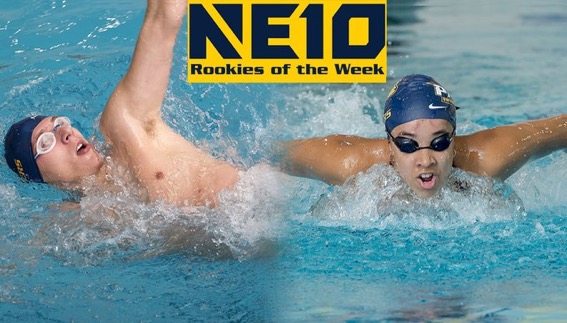 "No days off" may sound cliche, but they are the words the Men's and Women's Swimming and Diving teams live by.
"Swimming is a sport that you can't put in the same amount and expect more, you have to put in more to expect more," says 4th-year head coach Dan Allen.
To say the freshman class has been putting in the work to help their teams have a successful season would downplay their performance so far this year. They have not simply been an asset for both teams, but rather the critical component to plenty of the wins for the 5-0 Women's and 2-3 Men's teams.
"I think the freshmen kind of bring in a new energy and attitude to our program, and they've been great influences on our upperclassmen as well because they challenge them," Coach Allen said. "It's having one of those affects where everybody is training at a high level now, more than we've ever had in the past, and I think that's why you're starting to see the results on both sides."
Freshmen on both teams have already won a combined eight awards this season including NE-10 Swimmer of the week, NE-10 Rookie of the week and Setter of the week. Their high play has caught the eye of Women's team captain Madison Kiefer.
"I think they're easily one of the best freshman classes that has been brought in," Kiefer said. "They all train extremely hard and it shows in the meets."
There is often a difficult process for athletes transitioning from high school to college. However, the newcomers have yet to hit the "rookie wall" against stiffer competition.
Freshmen Joshua Lozano and Annabel Keppel-Palmer say the only major change for them is coming from programs that focused on individual achievements to now performing for a program that is team oriented.
"I feel like the transition has been good," says Lozano, who swam for his high school and a club team. "In high school, it should be a team atmosphere but it really wasn't, so I felt more at home with my club team and usually at my club meets I'd perform better. I feel like that's what you get here with this team. When I'm swimming and I see literally everyone on the sideline screaming, 'Go, go, go,' it gives me the energy I don't think I had to go that next step further."
"The main difference here is there's more of a team atmosphere," says Keppel-Palmer, who has already broken two Pace Athletic records in just five meets. "Where I was at before, it was more individual focused. I always perform better when I perform for a team, so I think that's been the main difference."
Coach Allen says it's not only the freshmen that has contributed this season, but the veterans on the roster have been critical.
"Our captains, Madison [Kiefer] and Junwo Moon, and others in leadership roles have been instrumental in helping our team develop that good camaraderie and chemistry," Coach Allen said.
As for the overall performance of both teams, the Women's team has gotten off to a hotter start than the Men's team.
"For us, we're in that kind of transition stage with our women's team where we've been that middle tier team and right now I feel like we're pushing to the top," Coach Allen said.
Despite the difference in records for both teams, Coach Allen preaches the same mentality: Hard work and believing you can win.
"For me, it's all about belief and that's something that has to come from the student-athletes as well," Coach Allen said. "I always thought both teams could be in the top tier on both sides, but at the end of the day it has to be the student athlete who has to believe they can do that."
Coach Allen stresses consistent training. There's no more important time to for that training than the two week break the team gets between the Fall and Spring semesters, which Allen considers a "critical point of the season."
No player knows how crucial training during that two week break is more than Senior Brian Sosa, who last season had issues finding a pool to swim in back home in Colombia.
"[Coach Allen] let me know that I was going to take the hit that year," Sosa remembered. "I knew it was a full-year compromise for swimming and just one day off will need two-three days to get back where I was. So, I came back and you can see by my times in the championships that I plateaued from the year before. I think it was because that little break during the most decisive part of the season."
Keppel-Palmer and Lozano are fully aware of what is expected of them over the break.
"I wouldn't want to take a break just because I know how hard it is going to be when I come back and training is on another level," Keppel-Palmer said. "I don't want to find it even harder."
"If you take a week off from swimming, you basically lose everything you've built up to," Lozano said. "It's going to take twice as much, if not three times as much work to get back to where you were."