Wali Lundy: Coach, Former NFL Player and Musician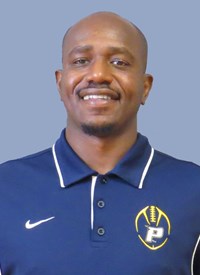 It was opening day of the 2006 NFL season and Pace University's running backs coach, Wali Lundy, got to see his favorite NFL team, the Philadelphia Eagles, play the Houston Texans at Reliant Stadium.
The South Jersey native watched in awe on the sideline, seeing his favorite players trot onto the field.
However, Lundy could not stand shell-shocked, as he had a job to do. That job was to beat his beloved childhood team in the first game of his career as the starting running back for the Texans.
"Going out there and playing against Donovan McNabb, Brian Dawkins, Jeremiah Trotter, and guys I grew up watching was crazy," Lundy said. "It seemed surreal being on the field with those guys after watching them play for so long."
Lundy and the Texans lost the game, but that one loss pale in comparison with the losses Lundy suffered earlier in his life.
By the time Lundy was nine, both his parents had died. He, along with his five siblings, were then raised by their grandmother.
"My grandmother was a very strong woman," Lundy said. "She was a very godly woman, so she raised us in the church. When I was a kid I hated going everyday. Now looking back, I realize how good it was for me to keep me out of trouble and keep my mind focused."
It was his oldest brother, Shaheed, who pushed Lundy and his other siblings to play sports.
"My oldest brother was really the motivation for all us playing," Lundy said. "He always pushed us to play sports. He really put the motivation in us to be good and be the best we can be."
Lundy transferred from his small high school in Florence, N.J., to Holy Cross High School to better his chances of making it into a Division I school.
Lundy then committed to the University of Virginia (UVA) as a running back, which presented much more competition than New Jersey high school football.
"You get to camp and it's not like high school," Lundy said. "Coming from being one of the biggest guys on the team to a little guy, you realize this is a different world."
After Lundy's understanding of the difficulties of competing in college football, he stepped up his play. In the last game of his freshman year, Lundy ran all over West Virginia in the 2002 Continental Tire Bowl.
With four touchdowns and 203 all-purpose yards, Lundy was named MVP of the game.
"I made it on the Sports Illustrated cover and just to have my picture there with the other bowl players was really cool," Lundy remembered.
With nearly 4500 total yards during his tenure at UVA, Lundy entered the 2006 NFL Draft with hopes of being an early round pick. However, with injuries shortening his senior year, his draft stock plummeted. He was selected in the sixth round by the Houston Texans.
"It was just a blessing to get drafted," Lundy said. "Of course I think I should've been drafted higher, but the chips fell where they fell."
Being a sixth round pick put Lundy on the roster bubble, meaning he could be released at any time. However, he impressed head coach Gary Kubiak and made the team.
"It was beautiful," Lundy remembered. "You go camp and it's a hundred guys fighting for their livelihoods, and just to get through that was one of the hardest things I ever done. It's just very satisfying to be able to accomplish your childhood dream."
Lundy was named starter to open the season. He played in 14 games and accumulated 750 total yards.
Two games that stood out that season to Lundy were against the Jaguars, in which he scored his first NFL touchdown and against the Titans, where he had his first 100 yard rushing game.
"Just to do that in the NFL against other pros is a big accomplishment," he said.
NFL does not just stand for National Football League; it also stands for "not for long." In the NFL, there is no job security. Your time can be up at any time and if you suffer a lingering injury, then your chance of being cut is heightened.
After high expectations, Lundy was injured in the last preseason game of his second season. The Texans released him and officially put an end to his playing career. Lundy still finds it difficult to discuss.
"It's what have you done for me lately' in the NFL, and I was out for a year and a half, and tried to come back but it just wasn't the same," Lundy said. "It still kind of bothers me to this day, but it is what it is."
"It was tough when you dream about a career as a professional athlete and it comes true, but it just don't hold up to what your expectations of what it should've been," Lundy said. "Everybody wants to go to the Super Bowl, retire and run off to the sunset, but that's not the case for most players… It's a tough league, but I'm just happy with the experience."
Being out of the league allowed Lundy to focus more on his other passion: Creating music.
"I think it's something inside that the heart desires," Lundy said about his passion for music. "I always had a passion for listening to music, recording the top songs on the radio and trying to mimic those artists, I think it was just something I liked to do. I feel like I'm a music artist at heart, it's just a part of who I am."
"It was an outlet for me to write a lot of my emotions and feelings, and putting them down on paper and being able to recite them," Lundy said.
There is a common saying in the world of sports and art that, "athletes want to be musicians and musicians want to be athletes."
Lundy believes no one should have to pick one or the other.
"You don't have to be boxed in with one passion, you can do more," he said. "I pray that I toe the line of being both athlete and musician. I'm not just trying to be just one because I love both."
Lundy has returned to football, but now as a coach.
"I came back for the love of the game," he said. "I had been out for so long that I was starting to get that itch to be around the game and the locker room again, and give what I learned from my coaches throughout my career and give it back to the players now."
With Lundy as running backs coach, the Setters had one of their best rushing seasons in the program's history in 2017 and running back Jhalen Bien-Aime racked up nearly 1200 all-purpose yards. Lundy believes the future is bright for Pace's rushing attack in the years to come.
"I think if they go through the off-season and build from what they did last year, our backfield can be very good and one of the best in the league," he said.