Concussions Ended Victor Jusino's Career But Not His Love for the Game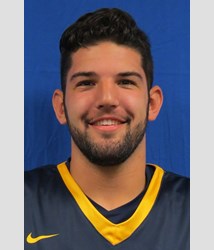 Kwadar Ray , Managing Editor
December 2, 2017|182 Views
The basketball court is no sanctuary. It can be a place of pain where players suffer injuries that range from sprained ankles to concussions.
After three concussions in three seasons, Pace senior Victor Jusino had basketball, a game he had played for twelve years, taken away from him.
"It was very frustrating," Jusino said. "I haven't had the best luck and I've missed time in all three years of my college career due to concussions."
Jusino suffered his first concussion during his freshman year after an opposing player's knee drove his head to the floor while diving for a loose ball. He suffered his second one his sophomore year at Georgian Court during a collision while taking a charge.
Coincidentally, each concussion occurred during the week of final exams.
After suffering his third concussion during his junior year, Jusino believed he would be back on the court in short time. After all, he returned after his previous two concussions.
"Initially, I just thought of it as any of the other ones I had," Jusino remembered. "I thought my head would hurt for a couple of weeks and then I'll come back like normal."
However, when he returned to practice, he did not feel the same; his battles with concussions had taken a toll on his body and ability to execute basic basketball activities.
"Just moving around was an issue," Jusino said. "Even simple things like rebounding, shooting, and looking up and down was not correct. It made me realize there was something worse wrong."
After discussions with doctors, coaches, trainers and family, Jusino decided it was best for him to no longer play for the Pace Men's Basketball team.
There is a competitive fire that burns deep in every athlete, and thus, the decision to end their playing career is never an easy one.
"It was very emotional at first," Jusino said. "I had to hold back tears. It was rough because it's something you've been doing your whole life, but you have a whole future ahead of you and you have to think about that," Jusino said.
Even though Jusino is no longer a player, he is still around the team nearly every day after being named the team's CEO, a title fit for the business major.
"I figured I could use this last year to be around the team and help out the younger guys," Jusino said. "Any guidance or any help I can give them is an added plus for a team that is very young."
"It's not that big of an adjustment because I still go to everything I can for them whether it's practice, lift in the morning, conditioning, or the games," Jusino said. "I'm there just like I was as a player. For me, I feel the same but there's that little difference in those three hours of basketball because I'm no longer playing, just observing."
As an observer, Jusino has gathered a new perspective on the game.
"Stuff I didn't know as a player, now I understand it," he said. "I remember when we would be at practice and coach would stop the drill and he'll be upset at us, but you really did not know why. Now, you sit back and watch, you see little things that add up and you see why he gets frustrated. You see how something like practice or conditioning leads into the game."
The Men's Basketball team has been far from world beaters this season, but Jusino says he's impressed with the team's play so far.
"Honestly, I like the way the guys are playing this year," he said. "They bring it every game. They've had a couple of heartbreaking losses, so no excuses, but for a young team that has started three freshmen at certain points this year, I think they're doing a great job with everything. The new players are adjusting to the league very well."
The team's play as a unit gives Jusino hope for the future of the team.
"They want to win more than anything," he said. "The unselfishness, to me, is very reassuring. It's a cause for optimism. Obviously, in the past, we haven't been all that great but looking forward, I think they'll be fine."
Jusino's battles with concussions every year are now in the past, and he wants to keep it that way.
"I really don't want to think about it to be honest, he said. "I just see it as something that happened and I want to leave it behind."