2018 Hall of Fame Inductee Dan Mulholland's Life in Coaching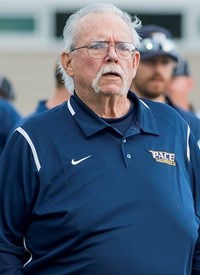 Dan Mulholland, Men's Lacrosse assistant coach and 2018 inductee into the Pace Athletics Hall of Fame, was approached by two young men on a beautiful Fall Sunday in 1983.
Mulholland immediately recognized the two men–they had played for him when he was the lacrosse coach at Yorktown High School.
"They told me they were starting a lacrosse club at Pace and desperately needed a coach," Mulholland remembered. "They asked me if I could do it."
Mulholland instantly accepted the opportunity because, at the time, he was in an uncomfortable scenario.
He was coaching lacrosse at Peekskill High School, the same school which his wife was a teacher and cheerleading advisor.
The issue at hand? Mulholland and his wife were going through a divorce.
"When the opportunity came to coach away from that situation, I jumped on it," Mulholland said.
Mulholland became the Pace Men's Lacrosse head coach in 1983, and led the team to varsity status in 1986. He is credited for officially starting the Pace Lacrosse program, a sport he did not have interest in until his freshman year at SUNY Brockport in 1965.
"I actually went to college as a football player," he said. "However, I played in the age where freshman football players couldn't play in varsity games and would play scout against the varsity team, and we just got pounded every day."
Luckily for Mulholland, he had two roommates who were lacrosse players, and eventually he began picking up a lacrosse stick and started playing the sport.
Upon graduation, Mulholland became the lacrosse coach at Yorktown in 1968, kick-starting his 50 year career in coaching. During these 50 years, he has experienced it all. He has been fired, he has won championships, and he even met Bill Belichick, current New England Patriots coach, a few times before he became a legend.
Name a sport and Mulholland has coached it. His resume includes coaching high school and college lacrosse, high school and college football, high school basketball, and as a favor for a fellow coach who pleaded with him to do it– even coached track and field.
"I had no days off," the Ardsley native said. "Even during the summer when I wasn't coaching, I would work construction."
Mulholland was a successful coach in all sports, but his greatest success came as the head coach of the Pace Men's Lacrosse team. His teams went 104-77 during his stint from 1986-1999.
The most successful team out of the bunch was the 1999 group that went 14-1 and won the NE-10 Conference Championship.
"The thing I remember about that team is how hard they worked," Mulholland said. "My assistant coach and I were both full time school teachers, so we were limited to the time we could get on the field. On their own, the players would get up and run at six in the morning, four days a week. The captains pushed them to do that and to get out there and work that extra hard."
"I don't think during the entire 1999 season we were ever in the gym," he said. "We practiced in snowstorms and rain, and the guys loved it. It was just that type of group that we were and we were fortunate to have Marcus Mayus. They had the best captain I've known in my life."
Mayus and the rest of the 1999 team are also being inducted into the 2018 Hall of Fame. Mulholland says there isn't a more special honor than to be inducted the same year as the distinguished team.
"It is special to be in with those guys. Pace has gotten most of the guys from that team to come back for the ceremony, which is a thrill," Mulholland said. "One of the guys recently said to me 'Coach, we were more than a team, we were family.'"
Despite winning the championship in 1999, Mulholland left Pace the following year, but returned 14 years later as an assistant coach.
"I was mulling over what I should do for my future, but then I had a phone conversation with Coach [Tom] Mariano and it was a perfect fit to come here," he said.
As the assistant coach, Mulholland is living a life with less pressure and responsibilities.
"An example of the difference between being a head coach and assistant coach is that now I'm allowed to be late," he laughed. "I don't have to go out and recruit, and I don't ever have to deal with the administration. All I do is look at the practice plan coach has and I know what spots are key for me. I just have less pressure and at my age, I kind of enjoy that."
With 50 years of coaching, which coincided with 41 years of teaching and summers working as a construction worker, one would think Mulholland is ready to hang it up and retire.
"A lot of guys my age are sitting home looking at where they're going to be, and thinking about when they're going to play golf again, but I can't do that," he said. "I'd miss coaching too much."