Meet Pace's International Black Belt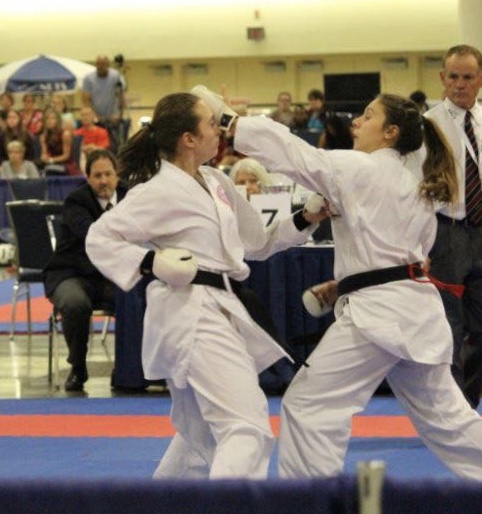 Kwadar Ray, Managing Editor
April 22, 2018|327 Views
Marisa Ruland, a Pace junior, and her friends sit aside one another before the start of their intramural soccer games and assure each other the game is just for fun and will not become intense.
However, it is not long before Ruland and her teammates–who are mostly former soccer players like herself–are competing back and forth like it is a NE-10 tournament game.
Ruland learned her competitiveness from the Ingram's Karate Center–a Tampa, FL dojo for martial artists learning and perfecting their skills.
The health science major has been one of the dojo's standout performers during her 15 years attending it. Ruland is a black belt in Isshin-ryu karate and has competed in nearly 70 tournaments.
She usually stays away from bragging about her achievements and rarely mentions doing karate at all to people.
"I don't really talk about it as much," she said. "My dojo teaches a lot about humility, so I am not out there blabbing to everyone that I'm a blackbelt and I'm going to fight you or anything. So usually, it is a friend I tell. It's not just someone I see off the streets and try to impress or one up. Usually, it is just something brought into the conversation or I can be talking about my friends from karate and then people start asking about it."
Despite Ruland's reluctance to discuss her karate prowess, one should not mistaken that for a lack of passion.
Ruland has been competing in tournaments since she was six, alongside her older brother, Chris, who is also a blackbelt.
Ruland's passion to excel in karate has resulted into an impressive record, which has seen her win nearly every contest she has been in. She has excelled at the local, regional, national and international stage.
"In karate, I'm very mental and it's a mind game," Ruland, whose parents also compete in karate, said. "I get extremely nervous and there is a lot of pressure that I put all on me, but I love it."
A sign of a true competitor is when they remember the losses just as much as they remember the victories. While Ruland can recall her favorite memory in karate–winning at the world championships when she was 13 with her brother in Italy– she can also recall her most painful loss, which took place at the 2015 AAU Katate Nationals.
"Losing for the very first time wasn't very fun but you learn from it," she said. "It was hard. As you start getting older, everyone is at the same level and athletic enough and capable enough to compete so it becomes fine tuning your skills and who's on that day and who is not."
Ruland could not remain focused on the loss because she had to shake off the cobwebs and compete in another division an hour later.
With all the pressure against her, she picked up a victory in the division and proved the two-sport athlete could excel under stress.
While Ruland excelled in karate, she also played soccer since she was four and most of her life has revolved around going back and forth between the two sports.
"When I was younger, I remember going from a soccer game at 10 a.m. and I would literally be changing in the car heading over to a [karate] tournament or practice," she said. "So it would always be back and forth, but it was always just fun. I loved doing soccer and karate, so I enjoyed constantly competing and playing."
The junior loves both sports in her life, but after leaving Pace's soccer team, Ruland has focused more on karate.
Despite the fact her training is limited at Pace considering she is 1,000 miles away from her dojo, she maintains fitness and prepares her body for skill based training when she is in Florida.
Ruland says her end goal in karate is to compete as long as she can and watch the art grow more.
"Karate was put into the Olympics in 2020, so it is pretty cool to see it move up and going places," she said. "When I was younger, we used to always wish karate was a collegiate sport because I would have done it in a heartbeat, but it's not that popular; but to see it develop and see it grow is something that's really cool."
With the company of her father, Ruland will compete at a tournament in Scotland this summer.