Pace Volleyball Edges out East Stroudsburg and Improves to 7-2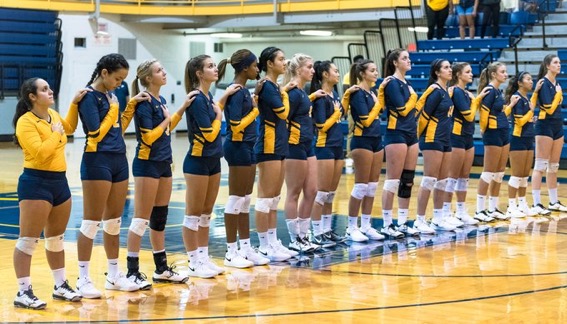 Tyaire Joseph , Contributing/Sports Writer
September 12, 2018|122 Views
Pace Volleyball came into Tuesday night facing one of the toughest challenges of its season, playing a formidable opponent: the 10-1 East Stroudsburg University (ESU) Warriors. ESU shutout Pace twice last season, but the underdog Setters were up for the challenge this time around, as they defeated the Warriors 3-1 at the Goldstein Fitness Center.
Junior Tatjana Calimpong-Burke led the attack with a season-high and team-best 16 kills, while sophomore Mackenzie Byrne tallied 9 kills of her own. On the defensive end, the Setters only tallied 5 blocks but that did not deter them from victory.
After starting off slow in the first set down 3-0, the Setters rallied back to take a 7-5 lead with kills by Sandra Yang, Kathleen Benson, Samantha Nidini, and Calimpong-Burke. ESU managed to stay within two points throughout the set until Pace went on an 8-5 point run to win the set 25-20.
The Blue and Gold opened up the second set with a 5-2 lead over ESU, but the Warriors cut the deficit down to two, thanks to strong offensive play by junior Sarah Smith, who racked up 8 of her game-high 19 kills in the set. However, the Setters did not waver and were able the to win 27-25 in a set in which both teams had match point at least once.
Pace looked to complete the sweep in the third set, but the Warriors had other plans. ESU came out and hit the Setters with their best shot opening up the set with a strong 13-5 lead. The Warriors dominated the Setters by tallying up 10 kills, eventually winning the set 25-12.
Not looking to let another set get by, the Setters came out in the fourth looking to handle business opening up to a 5-2 lead. In a set that saw multiple lead changes, the Settlers won the set 25-22, and ultimately winning the highly competitive match 3-1.
Next up for the 7-2 Setters are three consecutive home games, including a match Friday at 7 p.m. against 2-8 Mercy College. The team's first NE-10 Conference matchup is against American International College next Tuesday afternoon.