Most Wins in a Decade: Pace Football Midseason Review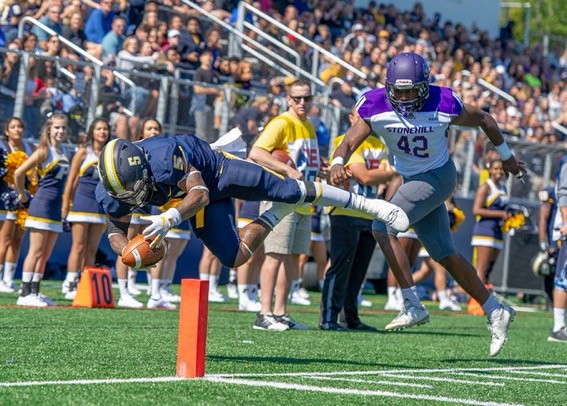 Hang on for a minute...we're trying to find some more stories you might like.
Pace Football was in an undesired position this past Saturday, down 20-0 on the road against Bentley University. A lack of productvity plagued the team through two-and-a-half quarters, but the cardiac kids of Division-II football proved why they are not the same 'ole Setters.
The team led a comeback and won in overtime 23-20. The come from behind victory was the perfect paragon of its entire season. When the going got tough, the team continued to fight back. Instead of not responding on offense after being down, the Setters scored a touchdown thanks to a Phyll Thomas catch, and then the team allowed running back Jhalen Bien-Aime to run over and through Bentley's defense, leading to a career high 210 yards on the ground and ultimately breaking the Setters' all-time career rushing record.
Instead of the defense folding in the fourth quarter, interceptions and key stops allowed the Setters to remain in the game. Then, after struggling to convert extra points, kicker Austin Stefano proved why he had "ice in his veins" with a clutch kick in overtime to win the game.
In years past, the arrival of mid-October meant the Setters likely only obtained one victory, but at the middle of the football season, the Setters sit at 4-2, the most wins for the team since 2008.
With four games left in the season, wide receiver Darius Jones and defensive end Kadeem Langhorne described their season so far.
"Based off our last game we're happy with how we're progressing and you can see how we're progressing," Jones, who also takes on return specialist duties for the Setters, stated. "We're happy where we think things are heading into the second half of the season."
"As an athlete, you always want to win every single game," Langhorne added. "Last game we had a good offensive showing and good defense and a good team win and we would like to continue that for the rest of the year."
Both players commented on fellow teammate and new quarterback Carlton Aiken, who before missing the past game with an injury, started two straight contests and produced dazzling performances through the air and on the ground.  
"Because I'm on the offensive side, you kind of had a glimpse of [ Aiken's talent]," Jones began. "It took him some time to learn the offense and get adjusted but the past few games he's really come into his own in terms of being a leader and a quarterback. I'm just happy how he adjusted to his role coming from a backup position and having to start."
"As a defensive player when we had to scrimmage him, we knew he had a special talent and was a special kid," Langhorne stated. "Coming in and stepping up as a backup and now becoming a starter he's done a really good job for us. He's made a lot of big plays during the game."
Regardless if the starting quarterback is Aiken, fellow newcomer Brandon Simmons or a familiar face in Dan Anerella, the Setters offense has proven to produce with any quarterback running the offense.
Being on the receiving end of passes by three different quarterbacks, Jones talked about the transition he has had to make through the season.
"There have been little adjustments that I've had to make with our chemistry, but I've played with Dan [Anerella] all last year, I've worked out with Brandon [Simmons] a lot, so we have good chemistry," Jones said. "Carlton [Aiken] and I, along with the rest of the receivers, we're getting there but it's little things that we have to pick up on still, but we're getting better every practice, more time we spend together the better off we're getting and we're just trying to move forward with that."
What makes the job for any of the quarterbacks easier is the consistency and excellence of Bien-Aime, who has an impact on every play he is in as a runner, pass catcher or blocker.
"[Bien-Aime] is still doing a great job being a good leader for us," Jones praised. "Since I've been here, he's always been a leader. Last year was his breakout season really and this year he's just maintaining, and picked back up where he left. He's a sort of glue that holds our offense together and being a leader."
Need a good way to start your Sunday?! How about checking out the highlights from @Pace_Football's overtime win at Bentley!

The Setters have now matched their highest win total since 2008! pic.twitter.com/SJP23lUHrw

— Pace Athletics (@PaceUAthletics) October 14, 2018
What cannot be underestimated is the defense's play during this impressive run for the Setters. It has garnered turnovers and constantly put pressure on opposing quarterbacks. Langhorne spoke about the defense through the season thus far.
"Defensively, I feel like we're doing a good job," he said. "The way offenses are opening up now, it's a lot harder to play defense, but when we stick to our technique and our keys we can be a very formidable defense. We can really stop offenses when we need it most."
As a senior, Langhorne is a veteran that has seen this Pace football program grow in the years he has played. He talked about this year's team compared to others he has been a part of in the past three years.
"I feel like we're all closer together than ever before," he stated. "We're working a lot better. I feel like we're playing a lot harder and we're working harder in the off-season during workouts and it's starting to show on the field. We're making an uphill way for Pace and we want to continue working that way and finishing this season off right."
Both players expressed their feelings toward the rest of the season and the expectations they have for the rest of their games.
"As far as expectations, we fully expect to win out, to win the rest of our games," Jones said. "We've had the tougher part of our schedule just pass. Offensively, I think we can matchup with anybody, we just have to be better at the little things like penalties. If we can do that, we should win out."
"Defensively, I feel like if we continue with our assignments and keys and we play with high effort, that's when we see the turnovers and the negative plays for the [opposing] offense," Langhorne said. "As long as we continue to play like that and together we can definitely win out for the rest of the year."  
The Setters next game is a homecoming match up against LIU Post, a team they fell to 41-14 last season.

About the Writer
Justis Nieves, Contributing Writer
Hey, my name is Justis Nieves and I'm a writer for the Pace Chronicle. I'm a freshman communications major and soon-to-be minor in journalism from...