Pace Volleyball Shining as it Nears the Postseason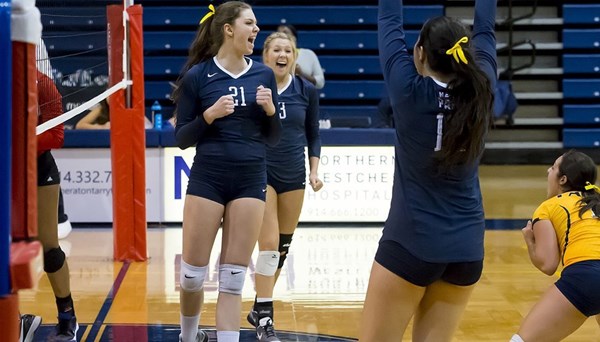 Tyaire Joseph , Contributing/Sports Writer
October 14, 2018|153 Views
Pace Volleyball has opened up this season strong with a 17 – 4 record and is playing a great brand of volleyball. The team sits at third place in the NE-10 conference and looks poised to make a playoff run.
At the beginning of the season, it could be seen how there was a different mindset coming into this season for the Setters.
"We came in with a team-first mindset, and the returning players really embraced that and got the freshmen on the same page," Head coach Karrin Moore said. "Over the summer everyone came in ready to work in order to win."
Senior Captains Claudia Fontanet and Kathleen Benson came into their last season with the mindset of win now.
"We are seniors now, so this was really our last year to play for what we wanted." Fontanet said.
Last year, the Setters were only able to win 16 games, but now through just 21 games this season, the team has surpassed their previous win total and have proven to be a powerhouse in the NE-10. Coach Moore credited this improvement to the team's mindset this season.
"It is 100% the team's mindset why this year is so much better as far as the wins and losses," Moore said. "The team is really on the right path to achieve their goals."
The Setters have put together great wins thus far this season. Led by Fontanet and Benson, who combine for 395 of the teams 1,284 points on the season, and not only are they leading their team on the court, but off the court as well.
"One of our biggest strength is that we connect not only on the court but off the court as well," Benson said. "We get together very often, Chemistry off the court helps us a lot on the court."
Strong leadership can be credited on the team's strong play, Claudia Fontanet spoke on her position as leader on this team.
"I like a quote that says 'A fish rots from the head down,' and basically shows how as captains, we set the example for the rest of the team," she said.
The Setters have won 12 of their last 14, and have built a couple of winning streaks during this stretch. Coach Moore spoke on keeping the team focus during this stretch of winning.
"It's tough, but we like to stay focused on what we do well and work on what need to in order to get better," she said.
With eight games left in the regular season, the Setters are looking to carry this hot streak into the playoffs. Kathleen Benson spoke on the team's goals for the rest of the season.
"Our top goal is to host in the playoffs," she said. "All of our hard work, the time we put in the gym and in the weight room will hopefully get us where we want to be."