The Investigation into T-Bone's Identity Crisis
A two-week search for T-Bone uncovered some interesting facts about the mascot and its anonymity.
Last week, I found myself sitting on the bleachers snapping pictures of the women's soccer team. While peering through my viewfinder, my focus was often sidetracked when other attendees came between myself and the women on the field. A large brown blob walked by a few times and eventually stopped right in front of my lens, completely blocking my view. 
I took the camera away from my face to find the culprit, and it was the one, the only, T-Bone.
I laughed to myself and shifted over a few inches, and brought my focus back to the game.
Although, I could not help but wonder who exactly was leaning up against the rails, clapping and high-fiving fans? 
Who is the student under the suit?
I eventually pushed this out of my mind for a while, dismissing the possibility of importance, until I went back through the pictures I took that day. Flipping through the many photos of the resilient soccer team, trying to find a picture good enough to send out, I came across one blurry photo of the fuzzy brown polyester mascot. The picture was unfocused, and too zoomed in, but it revived my curiosity.
I began my research with what I thought was a simple question: Who is T-Bone?
My first step was to contact the athletic department, inquiring about a possible meeting with T-Bone. I was given a response a few hours later, where I was informed there are actually several individuals who serve as T-Bone, not just one. I was then asked about the information I was looking for.
At this point, I had no answer. A million different questions were running through my mind, but I settled on a simple "Why are there multiple T-Bones?", to which, expectedly, was simply only because of a difficulty with scheduling.
This information, no offense to the athletics department, was sort of boring. 
Later this same day, I was contacted by Drew Brown, the Associate Athletics Director of External Operations. In a lengthy message, he stated that he is the one who coordinates T-Bone's appearances and was willing to assist me on my endeavor.
I met with Brown the next day and at first, it was a little cutthroat, not in a bad way. It was just as serious as an associate athletics director appointment should be.
Although it was slightly surprising because I was not insinuating any kind of bad behavior in Pace's athletic department nor questioning any type of scandal. I was simply asking about the giant dog suit they keep locked up in the equipment room. 
After a conversation/a bit of an interrogation, I was given the floor, and our T-Bone discussion had begun.
Brown told me that the department advertises the T-Bone position over the summer and at the beginning of the school year. In fact, I recall someone advertising the position at my own first-year orientation this past summer.
Many students who inquire about the role have previous mascot experience from their high school, and if they do not, then they can have a conversation with Brown and "study" for the role by watching training videos provided by the Athletics Department.
As to who these students exactly are, I still did not know.
"I think students probably like to be anonymous," he stated. "It's difficult to just have one person. That's not really possible with the student's schedules not matching up with events, so therefore we usually have multiple people serving as T-Bone throughout the year."
​Brown did state, however, there is usually a primary T-Bone representative.
"Over each of the years that I've been here, there's been somebody that's kind of been the primary T-Bone," said Brown.
​I left that conference room with no name to attach to the personality in the suit. Brown assured me that he would reach out to someone but days passed by. After one T-Bone turned down an interview, I was beginning to lose hope. Maybe this investigation was a bust.
On Monday, I entered my weekly newspaper meeting feeling stuck and lost, until one of my peers mentioned a connection she had to a primary T-Bone from last year. I contacted Brown once more to set up an interview, and felt as though I had found my answer.
I entered that same conference room once again with my same set of questions. While waiting for one of the many students behind the mask, Brown and I discussed his experience as being a substitute T-Bone.
"I only did it once, but I would do it again," he stated. "It was a basketball game. We needed someone for halftime, so I did it. I had fun with it. I didn't do much dancing but I moved, I played a little basketball."
A few moments later, Williams entered the room.
Williams is a junior Biological Psychology major with a double minor in creative writing and neuroscience, and the previous school year's T-Bone.
She has, like Brown suggested, previous mascot experience from her high school.
"Our mascot was the cavalier, basically a pirate, so I would dress up in a big puffy shirt with boots, and the hat, and then the cape and run around to try and get everyone excited," she said. "That was regular clothes instead of a whole suit, so it was a lot easier to do things. Besides that, I wouldn't say it was that much different, it was still just to get people hyped up for school events and sports."
T-Bone appears at all of the sports game, HR Events, school-wide events, open house, and Pace Bound days. In hot weather and cold weather, Williams' positive energy keeps her moving throughout her role as a mascot.
"My favorite event is probably Pace Bound Day," Williams stated. "It's getting the people who are coming here excited about it. If you do funny things it gets them even more excited about it, it puts a smile on their face, especially when they're dreading being here."
Her experience overall is rewarding, which she admittedly beamed.
"It's definitely a humbling experience," she explained. "Now I'm behind a mask, and you can kind of see how people react to it or appreciate it, or don't appreciate it."
During this conversation, I found a new appreciation for T-Bone and Williams that I did not necessarily have before. I am still puzzled though as to why anonymity is so important to the mascot community.
"My close friends know, the people who won't talk know, but other people just wonder who's in there," Williams says. "If I don't think they'll say anything, I'll be like 'oh hey it's Taylor' and they're like 'Oh! T-Bone!' It's kind of funny when they realize who it is."
Secrets are all a part of the mascot magic. As I am writing this, I am wondering if maybe I am ruining it.
Although, I am only exposing one dog, not the whole pack.
Either way, the humbleness, resilience, and positive energy T-Bone must carry can create a ruff job to have.
About the Photographer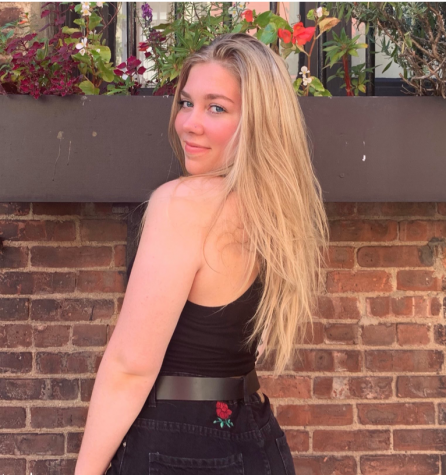 Sequoia Cumming, Editor In Chief
Sequoia Cumming is an honors-level senior majoring in Digital Journalism and minoring in Sports Media and Broadcasting. While starting as a contributing...