Unaegbu Overcomes Learning a New Position and Awarded NE10 Defensive Title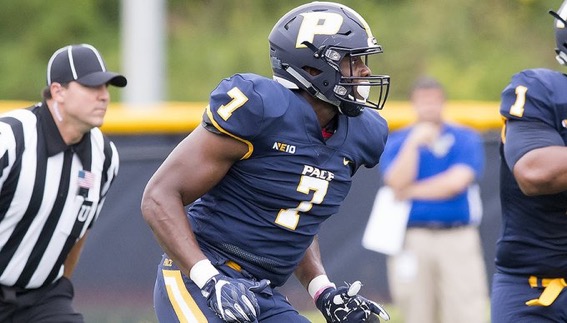 A 7-3 record for Pace football was unimaginable to Setter fans considering the multiple consecutive losing seasons the team has suffered from. Pace football was a program in which frustration was its common companion, but now the team has tied the record for its most victories in program history.
The accomplishment is especially sweet for seniors and graduate students such as Prince Unaegbu, who has seen the team works its way up from laughing stock to powerhouse in the NE-10. The graduate student/redshirt senior has been an integral  part of the team's success and was recently selected NE-10 Defensive player of the week, despite the setback of him starting the season with a new position.
Unaegbu plays defensive end after playing tight end for the past four years.
After a season-ending injury his junior year, Unaegbu was given a redshirt year. The following season, his coach gave him the option to start something new, which sparked a new light in the determined teammate.
"I was an average player," Unaegbu stated. "Last year my coach asked me 'what do you think about playing defensive end, to give you life.' I figured, it's my last year of football, might as well try something, and now I love it."
Unaegbu was a powerhouse on the defensive line for a Setters squad that earned their sixth win of the season two weeks ago against Merrimack. He put together nine tackles, 1.5 sacks, and a forced fumble. In his senior season, Unaegbu ranks second on the team in both total tackles (53) and tackles for a loss (7.5), contributing to Pace's impressive defense as a whole, which is ranked in the top three in the NE-10. 
"It feels amazing," he said about the impressive season. "I came in here 2014 from the other campus. I played on a bad field in Briarcliff, but now it's grown so much. Me, Jah'Sheem [Martin], Jhalen Bien-Aime, and Mike English, we made it here and it amazes us how far we came."
Unaegbu's passion for the sport is nothing new. 
"In fifth grade, the older kids wanted to play tackle football outside, and I was skinny so I didn't want to go," he laughed. "They just kept saying 'come on, come pay come play,' and they were smaller than me so I figured I'd try it and I was pretty good so I stuck with it from there."
Although, the root of his passion and drive comes from his family back home.
"All my friends and family support me a lot," Unaegbu said. "My grandmother passed away a couple years ago. She never really got to see me play, and I know she wants what's best for me, so I just go out there and use her strength and just go play."
The Setters' season is over and the future looks bright. Unaegbu gave advice to those looking to continue Pace football's newfound success.
"Trust the process, stay on your course, and believe in the coaches," he said. "Even if you think they're wrong, they're most likely right."
About the Contributor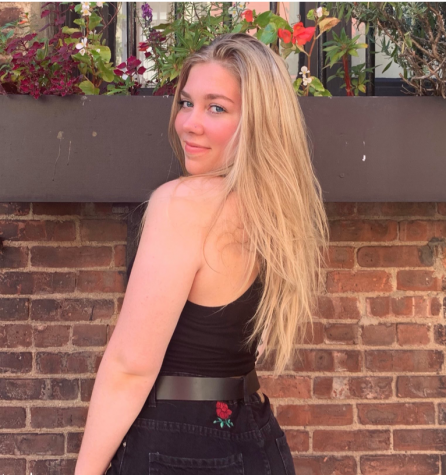 Sequoia Cumming, Editor In Chief
Sequoia Cumming is an honors-level senior majoring in Digital Journalism and minoring in Sports Media and Broadcasting. While starting as a contributing...