Pace Men's Basketball Storms past Felician in 70-56 win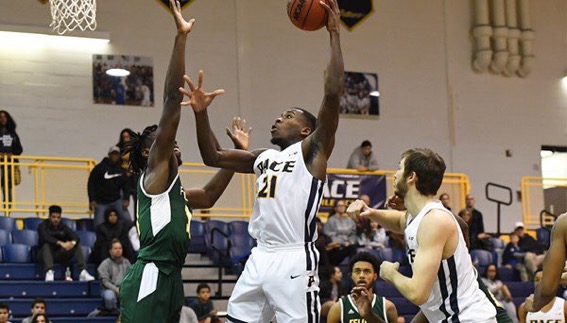 Tyaire Joseph , Contributing/Sports Writer
November 18, 2018|47 Views
Men's basketball faced off against Felician University this past Saturday evening and earned their second win of this early season. With the victory, the Setters now sit at 2-2. 
The game started off with the Setters falling behind early, as Felician bursted out with a 19-8 lead. Offense is what fueled Pace's comeback, they battled back into the game rattling off 13 straight points and taking a 21-19 lead.
Sophomore guard Brandon Jacobs led the way for the Setters during their first quarter comeback, with strong plays on both sides of the ball. Jacobs tallied seven of his game-high 17 points during this run.
The two teams kept the game tight throughout the first half, as the period ended with a small 36-33 Setters lead. 
But having a successful first half and maintaining that momentum into the second half are different matters all together. However, the Setters were up for the challenge.
Pace burst out of the gate scoring 17 unanswered points to start the half. This run gave the team a 50-33 lead and a 17-point cushion that helped them cruise through the second half and secure the win.
The Setters' starting five was the key to victory, with four starters reaching double digits in the points column. Along with Jacobs' 17 points, junior Peyton Wejnert added 16 points, senior Greg Poleon tallied 15 on a great shooting night in which he shot 7-11, and junior Tyrone Cohen Jr. had 10 points.
Men's basketball is back in action Tuesday night when they face off against 1-2 College of Saint Rose at the Goldstein Fitness Center.