A Blast from the Past: Pace Athletics' All-Time Greats and Record-Holders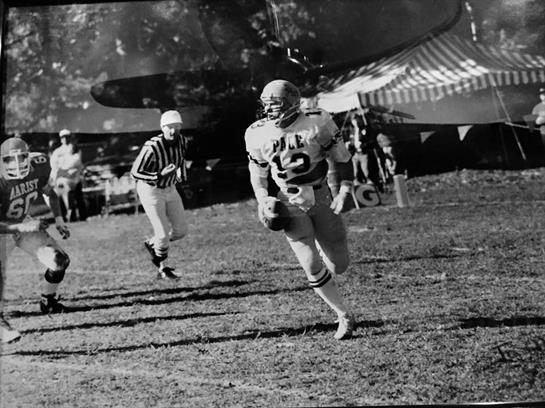 Kwadar Ray, Managing Editor
November 26, 2018|108 Views
Thus far this semester, seven Pace athletic teams have taken the field, court, track or pool, all with hopes of winning their game or meet. 
With players all dedicated to the common goal of a victory, there is no room for individuality of selfishness, as no single athlete can place a W in the win-loss column by themselves.
However, despite the necessary camaraderie that comes with playing for a team, it is human nature for athletes eyeing a record to break.
Cementing one's name into the record books means the effort a player puts into practice translated onto the field, and their excellent play allowed the team to be successful. Multiple Field Hockey players have already broken the young program's records this season and is continuing to set marks in the win department as they gear up for the NCAA Division-II quarterfinal game.
Pace students will for-sure remember the names of their peers who show success on the field, but what about the athletes that came before them?
There are a laundry list of individual record-holders across the athletic spectrum, but as time continues, some names are forgotten by Setter adherents, despite their greatness.
---
Pace football tied and broke its fair share of all-time records during this year's successful season, including most wins in the season (7). Running back Jhalen Bien-Aime continued his relentless assault on the record books himself, eclipsing the all-time rushing record in the Setters' victory over Bentley. 
But one name that consistently pops up in the football team's record books is quarterback Kevin Enterlein.
Enterlein, who started for the Setters from 1985-'87, has a whopping nine records that have stood for more than 30 years, including most passing yards in a game at 456, most yards in a season with 2,829, and most career yards at 6,365.
The pocket passer, who was inducted into the Pace Athletics Hall of Fame in 2008, also holds the record for most touchdowns in a career with 41, most in a game with 6, and most in a season at 20.
Enterlein's favorite pass-catchers during his stint at Pace also smashed records for the Setters. Wide receivers Rich Johnson and Rob Fehrenbach hold every receiving record for the program, with the exception of longest touchdown ever and most yards per reception.
However, perhaps the best athlete from that era was was women's basketball player Jennifer DiMaggio, class of 1988. Not only did the hall of famer lead her team to a 96-26 record during her time at Pace, but she is far and away the all-time leader in points scored at 2,125, rebounds at 1,254, and most points scored in a single game with 42. 
DiMaggio returns to the university oftentimes to support the team and reunite with some former teammates.
"I always enjoy coming back," said DiMaggio in 2014 during an alumni reunion. "It's great to see the people you played with and the people you played for."
"We had a lot of success during my time here, we had a lot of wins," she continued.
Just one season before DiMaggio started at Pace, another women's basketball player was dominating the court. Elizabeth Hernandez, class of 1983, was the first 1,000-point scorer in program history and graduated as the all-time leader in assists with 618. She is also the all-time leader in steals in a single game, single season and career. Hernandez was named the Pace Female Athlete of the Year in 1979-80 and was inducted into the Hall of Fame class of 2015. 

Fast forward two decades later, and the men's basketball team stumbled upon an all-time great. Guard Ryan Williams dominated the court until his collegiate career finished in 2008. Exploding onto the scene in 2004, Williams broke the freshman scoring record with 458 points. Though he was not successful in breaking the career all-time scoring record—falling shy by just 71 points—he dominated from the three-point line and holds every record in that department.
Playing her final season in the same gym a year before Williams arrived was Pace Volleyball's Andreea Cotoranu, who holds the record for best hitting percentage at .404 and kills at 2,411. Cotoranu did not have to wait long for her hall of fame induction, as she was honored in 2010. Cotoranu led the Pace to the Elite Eight in the 2000 NCAA Tournament, as well as helping the Setters to a NE-10 regular season and tournament championship. She also holds holds the NCAA All-Divisions record for kills in a 5-set match.
But no Setter team has as much success translating collegiate stardom to a professional career than baseball. A total of 33 alumni players were drafted by an MLB team, including Gary Collum who was drafted by his hometown team the New York Mets in 1993, and Vinnie Soreca being drafted as early as the third round in 1981 to the Philadelphia Phillies.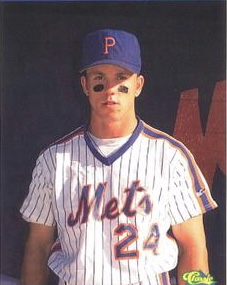 As for the baseball players atop of the record books, Mike Pisacreta, class of 1991, is the career leader in home runs at 45 and in hits at 250. And the man directly behind Pisacreta for second in career hits is no other than current baseball head coach Hank Manning at 232.
Only four Setter teams have completely finished its seasons this year, so there's a great chance current athletes break some of their teams' respective records.