Underdog Men's Basketball Ready to Take next Step after Turnaround Season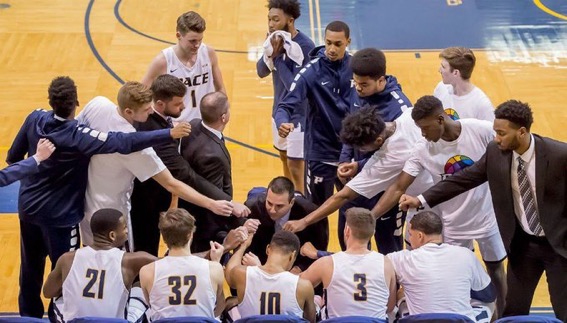 Following an 86-66 loss to Le Moyne College in the NE-10 championships quarterfinals last week, men's basketball had something to be proud of, even in defeat.
Coming into the 2018-2019 season ranked last in the NE-10 Southwest division, expectations were low for the Setters. Considering they had a combined win total of 15 from their previous two seasons, this season was a huge turnaround. The Setters finished the regular season with a 15-13 record and won their opening round matchup in the playoffs against Franklin Pierce after not reaching the playoffs for nearly seven years.  
Team members all had faith in themselves, however, so this breakout season came to no surprise.
"We came in pretty underrated," said sophomore point guard Brandon Jacobs. "A lot of people didn't know what we had. How hungry we were for the season to start. So I'm not really that surprised. I feel like we knew we were going to work hard and prove everyone wrong this year."
Jacobs played a major part in the Setters' turnaround year. In what was a historic season for Jacobs, the sophomore broke the Setters' single-season assist record previously held by Pace athletics Hall of Famer Todd Ziogas (163) with 185 assists. 
Head Coach Matt Healing spoke to the role Jacobs played in the team's success.
"Brandon was tremendous. Just a unbelievable year for him," Healing began.  "I'm so proud of him as a person, as a basketball player. We recruited him a couple of years ago when our team was kind of in flux and I really was looking for somebody that I could hand the ball to at the point guard spot and be able to play a lot of minutes and run the show."
"He's a high IQ player, very smart basketball player," Healing continued. "Obviously, he's a tremendous passer breaking a single season assist record, a 20, I think it was a 22-year-old record, which says a ton about what he can do as a point guard. And obviously to do that as a sophomore is tremendous. But he does everything for us. People that know our program, people that know the inner workings of everything we do, know how vital and important he is to our success. And I'm not surprised that he had a really good year and then help propel us to a really good year."
Several individuals inside the Setters locker room credit their success to the work they put in the offseason.
"We had a nice offseason last year, afterwards just saw a lot of fight a lot of motivation," Healy said. "That carried into the preseason, I thought we had a great preseason. Guys were working hard, coming in early, staying late, putting in all the extra time they need to elevate their games." 
With all the success the Setters had this season, they hope to use this season as a building block for years to come.  
"I think it's just continuing to lay down the foundation," said Healy. "I thought we did that a little bit last year and we took that to another level this year. Even now, you know, the season ended and I see guys are hungry and motivated for a better season next year. This was a really good season for us. It was a step in the right direction. It was our first winning season in I think 12 years, our first playoff appearance and six or seven years or whatever it might've been. To win a playoff round. I think all of those were great for our team, but I think we all know that there's still more that we can achieve and more that we can attain. And I know that… our guys are pleased with the year but not completely satisfied. And I think, again, that's just another great indicator of the type of group that we have and the type of team we could have next year to see where their head is at right now and how badly they still want to keep working."
With a majority of their starting core returning next year, the future is bright for the Setters.