Pace Athletics Honors Hall of Fame Inductees at Award Ceremony
Pace Athletics held their annual Hall of Fame Dinner and Award Ceremony last Thursday evening to honor and support the alumni and coaches for all of their achievements.
The evening began by recognizing the incredible work ethic that the current Setters have. 283 student-athletes made the NE-10 academic honor roll for the fall semester. Twenty-three of them had a 4.0 GPA. One hundred seventeen of them earned the right of academic distinction and another 143 earned academic honors.
"It's really good to be a Setter these days," said Pace athletics director Mark Brown. "Our teams are setting records, several of our teams are nationally ranked, we've had the highest athletic enrollment in program history, and we have the highest GPA in our athletic department history of 3.26."
The first accolade of the night was the Peter X. Finnerty Award, which is given to a member of the Pace athletics community for outstanding leadership and service to the University or society as a whole.
TJ McDonald (85) was a two-year team captain for Pace baseball and two-time ABCA All-American in 1983-84, as well as a CoSIDA Academic All-American selection in 1983. He also played pro ball for six years after being drafted by the San Francisco Giants. McDonald continues to support Pace and works hard to reconnect alumni to the university and athletics department.
"He is someone who is involved, who gives back, and who supports today's student-athletes," Pace President Martin Krislov said. "Even though he has a very busy life, he always has time to be involved in Pace athletics."
Not only were individual athletes honored at the event, but also historical teams. Pace's 1993-'94 women's basketball–arguably the best team in program's history–was given the Team of Distinction Award.
Led by then second-year head coach Carrie Seymour, the team earned the second-most wins in program history, finishing the season with a 27-4 record. They were amongst the top teams in the nation, leading all of Division II in scoring defense, opponent field-goal percentage and margin of victory.
"You've heard all of the team records, individual awards, statistics, and I think those speak for themselves," Seymour, who has coached the team for 27 seasons, said. "One thing that really separated this team from a lot of the others is how much they cared about each other on and off the court. They were very supportive, but they always demanded the best."
The next awards were given to the five Hall of Fame Inductees, the first being Jennifer Brigham. Brigham ('00) led the Setters to the best four-year stretch in Pace volleyball history. She currently sits atop the record book for every blocking category, and her total block mark of 708 sits 194 above second place. During her senior year, she was named the NE-10 Player of the Year, the NE-10 Tournament MVP, and Pace's Female Athlete of the Year.
"All of the athletes here support each other, and I'm so happy to see so many of my friends back here today," Brigham said. "Each of you helped me in some part be able to achieve this hall of fame award, and I'm honored to accept it."
Christopher DeGrazia ('94), a two-year captain of the football team who set the program record of 481 career tackles, was the next inductee. DeGrazia, who was was named Homecoming Co-MVP during his junior campaign and was an All-ECAC Intercollegiate Conference selection, did not encounter much success in the win column, but is nonetheless appreciative of his time on the team.
"At the time our program was a bit shaky, as we won only four games in four years," DeGrazia said. "Even still, I am forever grateful for the opportunities my team gave me, and the many wonderful people I met along the way."
The following inductee was Libby Falconi King ('85), a Pace basketball legend. During her sophomore campaign, she finished second on the team in both points and rebounds. She continued to improve through her junior year, and eventually served as a co-captain during her senior year.  She became the fourth member of the program's 1000-point club in a season in which she also led the team in rebounds and steals.
"Pace was very instrumental in my life in so many ways," Falconi King said. "I became a nurse, I met my husband, and I made friendships that will last forever. I will treasure this honor always."
Pace baseball alumn David Qualben ('06) and his impressive collegiate pitching career culminated to a hall of fame induction. In just three seasons, he completed a 15-9 record across 181.1 innings, sporting a 2.88 ERA. He averaged more than one strikeout per inning pitched at Pace.
Qualben was also named to the NE10 All-Conference and ABCA-Rawlings All-Region Second Teams in his final season in Pleasantville. After Pace, Qualben was selected by the Houston Astros in the 7th round of the 2006 MLB Amateur Draft and debuted professionally with the Tri-City ValleyCats.
To this day, Qualben can recall the story of watching Pace baseball compete while he was in high school.
"I remember during my senior year in high school checked in to see how Pace was doing," Qualben said. "In one weekend in Miami they gave up 72 runs, and they finished the season 9-40. That was 2002, and that was probably the last year that Pace baseball sucked. Hank Manning really turned the program around, and I thank him for that."
Thomas Rowinski ('76) was inducted into the Hall of Fame due to his outstanding collegiate career with Pace basketball. He set a more than 40-year-old record of 898 career rebounds and still holds the single-season rebound record of 353 and single-game record of 27. Rowinski co-captained the team in 1975 and led the conference in free-throw percentage. In 1976, he was named an All New York Met Writers All-Star as well as Pace's Letterman of the Year.
"I got to admit, it was great playing at Pace," Rowinski said. "It was a great opportunity. The best moments I had was when I was captain because your teammates honor you. Always be the first guy at practice, and always be the last to leave."
The next event held by Pace Athletics to honor its alumni is the annual Alumni and Friends Golf Challenge held on June 3.
About the Contributor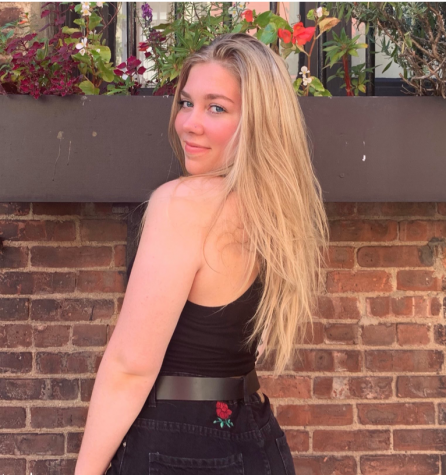 Sequoia Cumming, Editor In Chief
Sequoia Cumming is an honors-level senior majoring in Digital Journalism and minoring in Sports Media and Broadcasting. While starting as a contributing...