New Volleyball Head Coach Ready to Keep a Winning Pace
Pace athletics has officially hired the new head coach of Pace volleyball. Jackie Granger, a St. John's volleyball alumni, was hired to fulfill the spot left open by ex-head coach Karrin Moore. Granger met with her new team officially this past Saturday to discuss their goals for the upcoming fall.
"I want to focus on, overall, just having a good season, but a good season does not necessarily mean a winning season," Granger said. "I know that the girls and I do want to be able to make it to top four. I know they've been close and have had great starts, but we want to be able to have that great finish, as well."
Before Granger, Moore coached the Setters for nine years and changed the volleyball program for the better. While at Pace, Moore coached the team to six winning seasons. She led the Setters to the NE-10 tournament six times and the NCAA Regional Tournament twice. She recruited and coached one Eastern College Athletic Conference rookie of the year, one-3rd team All-American, 16 all-conference players, 6 AVCA All-Region selections, and her team's GPA consistently exceeded 3.20.
Moore left her position this past winter to be closer to her family in Arizona and now coaches women's volleyball at Westminster College in Salt Lake City, Utah. Meanwhile, Granger was looking to move her own family closer to her homeland of Rockland County, New York.
"It's exciting, and it's nice to be back home," Granger said. "Any new position is nerve-wracking. I think the girls are looking forward to an exciting season, and that's what I'm looking forward to as well."
Before Pace, Granger was the assistant coach for Georgetown University volleyball. Georgetown went 17-13 last year with Granger part of the coaching staff. Granger assisted the Hoyas in recruiting, managing the team's compliance, and coordinating volleyball camps and clinics. She plans on taking some of the things she learned while at Georgetown and implementing those ideas into the Pace program.
"The Georgetown community is a big family," she said. "The support between the athletics and academics, and understanding just how important those are, are the kind of values that I want to enforce here."
Granger's passion for coaching came from encouragement from her own college and high school coaches, including 2004 Pace head coach Dan Altro. Granger was discouraged when she got cut from her school's basketball team but ultimately joined volleyball along with her best friend. Her coaches in both basketball and volleyball have helped her shape her own leading style.
"I had great coaches," Granger said. "I was very close with my coaches, and they influenced my whole career. I knew how big of an impact they had on my life, and I knew that that's what I wanted to do for other student-athletes as well."
Granger is not only a head volleyball coach but is also a full-time mom. Her family keeps her busy with their athletic pursuits, but she will always be committed to maintaining the Setters' success.
"We need to not only be the program that it is but take it a step beyond as well," Granger said. "She [Coach Moore] put Pace volleyball on the map for sure, but I need to prove that yes, we're growing, but we're here to stay."
About the Contributor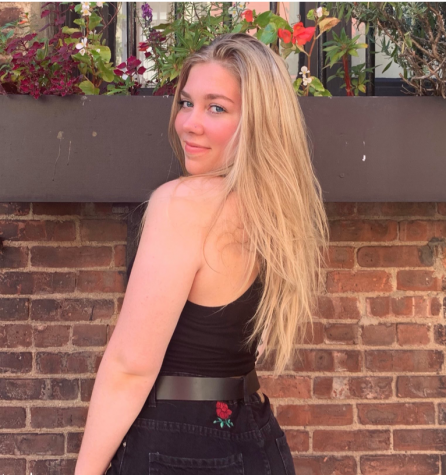 Sequoia Cumming, Editor In Chief
Sequoia Cumming is an honors-level senior majoring in Digital Journalism and minoring in Sports Media and Broadcasting. While starting as a contributing...