Polish International Student swims her way into the big city
As graduation approaches, Pace senior Marta Hasny reflects on her self-made community within the swim team while she continues to feed into her passion for the city lifestyle. 
At the age of 10 years old, Hasny began her swimming career in her hometown in Kędzierzyn-Koźle, Poland, a rural town located in southern part of Poland. She continued swimming throughout high school winning multiple medals from championships.
Inspired by a family friend, she became aware of the benefits of swimming competitively and chose to apply to colleges abroad with the assurance of getting a swimming scholarship. With a strong desire to leave the rural setting, Hasny applied to New York City colleges. She states, "I thought I was applying to the Pace in the city. But swimming isn't in the city!"
Now, Hasny is a senior computing science major at Pace and one of the many international students on the swim team. With her family a 13 hour flight away, she states that the other international students within the team made her feel secure abroad. It was comforting for Hasny to know she was not the only one a long distance away from their family. She says she this allowed  her to create her home away from home with her teammates.
"It's just not possible to go home for the weekend," she states. "Luckily, on the swim team I have a friend from Spain and another from the UK in the same situation as me." 
However, almost a year into the COVID-19 pandemic, for safety reasons, there are no swim meets taking place. Hasny states the team continues to practice but she isn't sure what for. However, the swimmer emphasizes that she is taking advantage of the ability to continue growing in her sport. 
With no competitions in sight, Hasney secures time to fulfill her passion of exploring the streets of New York City.  As her passion for the city continues to grow, Hasny shares that every week she attempts to take the trip sightseeing.
Throughout her years at Pace, she continues to utilize the free shuttle bus transportation to Pace's New York City campus. From there, Hasny goes with the flow in her endeavors to explore what the city has to offer. No matter if she travels to walk around or to sit in Central Park, she states,"You feel like you're in a movie wherever you are in the city." 
She reflects on her favorite moment in the city; attending the Global Citizen Festival on the Great Lawn in Central Park. She shares that she was able to see her favorite artists live while enjoying the scenery of the park.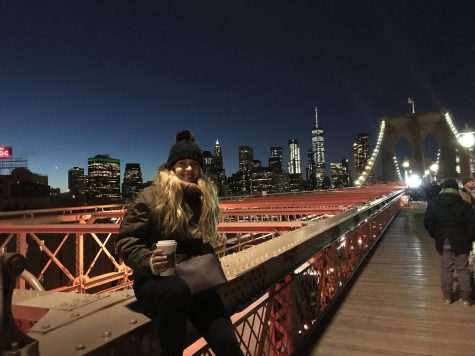 When exploring the city, one mission of hers is to find an international restaurant that can recreate her favorite hometown meal, pierogi, which are dumplings made from dough surrounding sweet or savory fillings. 
"Everything tastes like plastic here," Hasny admits. "It is so hard to find something that seems like it has actual taste. The quality of food in Europe overall is just so much better." 
Facing defeat, Hasny took it into her own hands to recreate her favorite Polish dish for her teammates to try. She states she gathered the ingredients and materials, however in the United States she was unable to find the Polish cheese necessary to fulfill her expectations. She expresses that her final product could not even compare to the pierogies from Poland.
When she returns to Poland at the end of the semester, she looks forward to eating her favorite foods, but she especially can't wait to spend time with her family. Hasny typically interacts with her family through Facetime or text, but she is looking forward to spending time with them in person.