Radici and Dietz proud of successful field hockey season thus far with playoffs in sight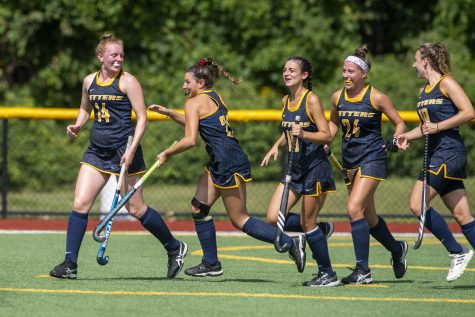 Pace field hockey currently holds the best record (9-5 overall, 6-4 in conference) for all of Pace's fall athletic teams. Sr. Mia Radici and Fr. Krista Dietz spoke out on what has been going so well for the team being back in a mostly normal semester.
After having a large graduating class after her freshman year, Radici's sophomore year was essentially an entire new team, deemed a "building year" by Radici. However, due to the COVID-19 pandemic,"the freshmen last year didn't really get to play with us that much, so we were a little worried about this season," said Radici speaking about how the team felt coming into this season.
Though the team had pessimistic ideas about this year, the team became very good friends off of the field, which Radici states has helped immensely on the field. 'They saw what we had, and they just jumped right in. They don't even look like freshmen," said Radici talking about her freshmen teammates.
Even in the toughest of situations, Dietz feels that her teammates always have the drive to keep pushing, no matter how far the deficit or how tired they may be. "We want to keep going. We want to always push ourselves to be the best that we can," she said.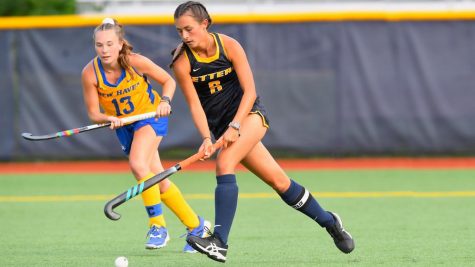 Watching film has also helped the Setters in their season thus far. Dietz believes that watching film on other teams helps them prepare for those specific games. "Not knowing what other teams are like and how they play would make it really hard to understand how to play against them.
Currently, the Pace field hockey team is ranked seventh in the NE-10. "When we're playing the way we need to be playing, we know we can beat any of these teams. It doesn't matter the ranking," Radici said. Her younger teammate adding "we have to have the same mentality."
The freshman standout has been a large contributor to Pace's offense. Continually at the top of the leaderboard for the NE-10 in goals (14-T1) as well as points (31 T2) and earning NE-10 Rookie of the Week twice, Dietz has quickly made a name for herself within her first few months of college field hockey. Talking on what has helped her the most this season, she claimed that "the team mentality helps me be the best I can." Radici added that she takes pride in being a senior and being named a captain as she strives to have a parental role to her younger teammates on and off of the field.
As the Setters head into their last few games of the regular season, they hope to increase their winning percentage for a better position in playoffs.