Pace Basketball Celebrates Senior Day, End Regular Season Victorious
Pleasantville, N.Y.- Senior Day Festivities were in order for Pace Basketball as Franklin Pierce came down from New Hampshire for a doubleheader.
Two from Pace's women's team and four from the men's team were recognized before the start of game 2.
The Seniors
Guard Lauren Hackett from Commack, New York wore #3 for her career. She appeared in 115  games, starting in 111, averaging 8.2 points and 3.5 assists per game. By the game's end, she reached 400 career assists, a mark only 12 other women in NCAA Division II Women's Basketball reached.
Guard Kelsey Quain comes from Ossining, New York. Wearing number 10, she played 101 games, starting 41. Quain averaged 4.8 points, 1.9 rebounds, and 1 assist per game. Her 134 three-pointers are 7th most in team history.
Guard/Forward Adonis Williams transferred to Pace University from Adelphi University for his extra year of eligibility. He wears 2 on his chest and has averaged 4.0 points, 2.4 rebounds, and 0.6 assists per game. He scored his 1,000 career points earlier this year.
Forward Frankyn Bautista came to Pace from American International College. This season he has averaged 6.2 points, team leading 5.9 rebounds, and 0.7 assists. He has appeared in every game thus far, starting 9.
Forward Christian Adams out of New Haven, Connecticut has been with Pace for all of his four years. He averaged 5.2 points, 2.7 rebounds, and 0.6 assists for his career. Adams was an instrumental part last year in Pace MBB's First Ever NE-10 Regular Season Championship and first NCAA Tournament Appearance since 2007.
Guard Adeleye Oyekanmi came to Pace from Staten Island, New York. He was also a member of last year's historic 21-22 team. Oyekanmi appeared in 55 games in his career averaging 1.9 points, 1.1 rebounds, and 0.4 assists per game.
Brandon Powell from Middletown, New York has been a core member of the team since joining Pace in his junior year. For the blue and gold, he has averaged 14.6 points per game with 5.4 rebounds and 1.6 assists per game. A prolific shooter, for his Pace career he sits at 36.9% 3-point percentage.
In last year's NCAA Division II Tournament, Powell was named to the All-Regional Team averaging 20 points, 10 rebounds, and 4 steals through two games.
Women's Basketball 
The Setters won wire to wire, opening the game with the lead and never relinquishing it. Pace's lead was as big as 23 in the first half. The team jumped to a 15-4 first-quarter lead by the 4:54 mark.
A three-pointer by Lauren Hackett at the 2:49 mark of the second quarter put Pace up 41-18. Their halftime lead was 41-20.
More of the same continued for Pace in the second half. They got a lead of 25 when guard Katumina Mansaray's jumper made it 48-23.  At the end of the third, the score was 63-40 in Pace's favor.
Franklin Pierce got the lead as small as 10 early in the 4th quarter, but the Setters hung on to win 73-54.
As a team, Pace went 14-24 on threes. 4 came from Hackett, 5 from freshman Morgan Ryan gave her 15 points and 3  from sophomore Mackenzie Koch for 9 points.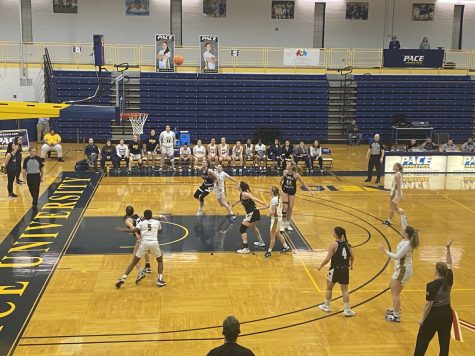 In her final regular season game, Hackett finished with 14 points, 6 rebounds, and 5 assists. Sophomore forward Tower Lorde had 11 points and 8 rebounds. Fellow forward Arianna Stockinger had 11 points, 3 rebounds, and 2 assists. Quain came off the bench in the 4th for one last shot, a 3-pointer, the 134th of her career.
Yesterday's win guaranteed a NE-10 playoff home game. 9th seeded Saint Anselm College comes to Pleasantville this Friday, February 24th at 5:30 pm. The winner goes to Regular Season Champion Le Moyne College in Albany, NY on February 26.
Men's Basketball 
The Men's team lead Franklin Pierce all the way in their contest as well.
MBB also opened an early double-digit lead on the Ravens. Theirs was an 11-point 20-9 lead. Franklin Pierce turned in a 17-7 run to turn the score into 28-26 with 3:25 left.
A back and forth ensued for the end of the half. At the break, the score is Pace 37, Franklin Pierce 33.
Franklin Pierce out of the break tied the game at 37 on free throws. Pace followed with an 11-0 run that would put a huge gap between the teams.
Brandon Powell ran the show in the second half. The majority of his scores were from beyond. Powell hit 11 threes in the game, 9 of them after the break. He had 31 points in the second half en route to a career-high 44 points to combine with 10 rebounds.
His offensive outburst charged an 81-56 victory. Other contributors include Brandon Powell with 10 points, 6 rebounds, and 2 assists, and freshman Jabari Nurse with 5 points and 5 rebounds. Point guard Lyron Bennett had 4 points and 8 assists.
Pace MBB's win ensured they too will host a playoff game as the 7th seed. Rivals Adelphi University as the 10th seed will return to the Goldstein Fitness Center. Game time is at 7:30 right after the women's squad.