Pace Women's Lacrosse Moves to 2nd In Division II Women's Lacrosse Ranking,  
The Pace University Women's Lacrosse moved to 2nd place in the International Women's Lacrosse Coaches Association (IWLCA) yesterday. 
With the publication of the IWLCA's release, the 2023 Pace WLAX team now owns the highest-ever ranking in the history of Women's Lacrosse. 
The team's 2nd seed national ranking is surpassed only by the 1999 Pace Men's Lacrosse team, which had a record of 14-1 and ranked #1 in the country. 
Pace's Saturday win over #5 Le Moyne College marked the team's 3rd win over a Top 5 ranked opponent and first ever over the fellow NE-10 school. The final score was 16-5.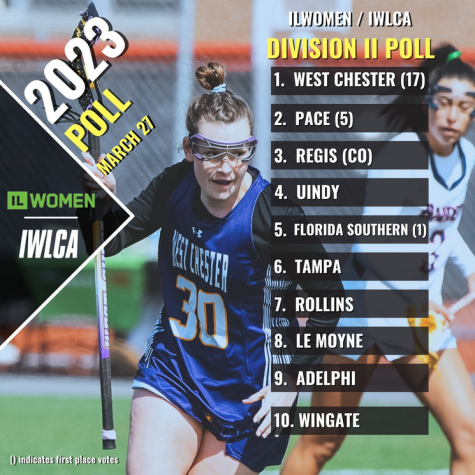 The Setters currently have a record of 3-1 vs ranked opponents. The one defeat, to the 4th ranked University of Tampa on March 15 was by only 2 goals. Pace also sits at 3-0n in NE-10 play.

Pace plays another ranked opponent in 9th ranked Adelphi University. The Panthers come to Pace Stadium this Wednesday, March 29. 
The game begins at 6 p.m. Watch live on ne10now.tv/paceuathletics or buy tickets at paceathletics.universitytickets.com