Pace Women's Lacrosse Reach First Ever NCAA Tournament Game, Named East 1st Seed
The Pace University Women's Lacrosse team will play their first-ever NCAA Tournament game in program history this Friday, May 12. Pace was named the East Region Number 1 seed for the NCAA Division II Tournament signifying home-field advantage. It means an NCAA game will be hosted for the first time at Pace Stadium.
The Setters will enter the NCAA Championship with a 17-2 record, which is sure to have convinced the selection committee last night. A crucial part of their resume is a 10-2 record vs nationally ranked teams, with both defeats by less than 3 goals.
During the regular season, Pace went undefeated vs NE-10 opponents and had a 15-game win streak during the season. The streak snapped when Pace lost to The Le Moyne College Dolphins in the 2023 NE-10 Women's Lacrosse Championship, 14-13 in heartbreaking fashion.
The Setters learned of their fate during tonight's selection show. The question as the broadcast turned on was if they remain as is or fall following their defeat. As known now, they are still #1. Playing Pace is The University of New Haven Chargers as the 4th seed. The familiar NE-10 foe previously came to Pace Stadium on April 4. The Setters won that game, 20-10.
Also in the East Region is fellow NE-10 teams Le Moyne as the 2 seed and the Adelphi University Panthers as the 3rd seed.  Those teams previously played twice before, with The Dolphins winning both 14-8 on April 15 and 17-6 on May 5 in the NE-10 Semifinals.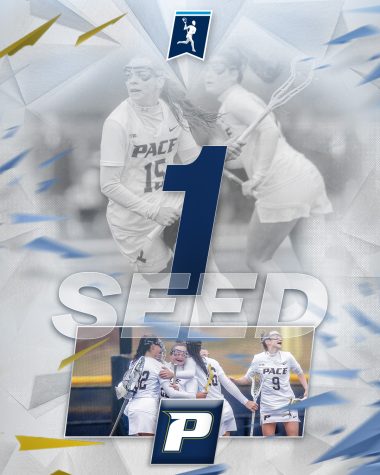 Pace vs New Haven is set for 11:00 am, and Dolphins vs Panthers follow at 3:00 pm. The winners of both games play  Saturday, May 14 at 12:00 pm. The winner of that game will play in the National Semifinals at Key Stadium at The University of Indianapolis in Indianapolis, Indiana. Access the full bracket here.
This will be the second NCAA Tournament Game for Pace Athletics this year. In March, Pace Men's Basketball reached the NCAA Tournament, losing in the first round, also vs.  New Haven. There is a chance of two more teams. Pace Softball is currently ranked 7th in East Regional Rankings and Pace Baseball is in the NE-10 Championships.
Admission for students of the hosting and visiting institutions is free. Adults' tickets are yet to be announced. This article will be updated with details. when available. Watch live on https://ne10now.tv/paceuathletics/