A slow 1st half-start for  Pace Football was too much to overcome the University of Findlay Oilers on Saturday. The final score was 40-25 falling to a record of 0-2.
This weekend's game was the home opener for Pace. The University of Findlay Oilers were visiting Pleasantville, NY originally from their eponymous town of Findlay, Ohio.
At halftime the 2023 National Champion Pace Women's Lacrosse Team was honored. The PA announcer introduced all the players of last year's history-making squad. Also present was Pace University President Martin Krislov to commemorate the winners. There appeared to be a flag pole in the foreground acknowledging their victory from four months ago.
This game would have a second, much longer break than the standard halftime. A lightning warning in the early part of the 4th quarter halted the contest. This delay would be extended an extra 2 hours with heavy rainfall as the streaks of light remained persistent. After pausing around 2:30 pm, the game would finish at 6:54 pm for 6 hours, 51 minutes duration.
On Pace's opening drive, a delay of game call on freshman quarterback Israel Lopez set the team back and would prevent an opening first down. Findlay would punt back to Pace on a 3 and out of their own. The Oilers would get the ball back in no time as junior QB Sean Kehley subbed on for a run coughed up the ball, losing possession on top of losing 10 yards already to a block in the back penalty. This time the Oilers got points with a passing touchdown courtesy of Quarterback Alec Bornhurst to his wide receiver Mitch Nielsen for six plus the point after. The scoreboard read Findlay 7, Pace 0.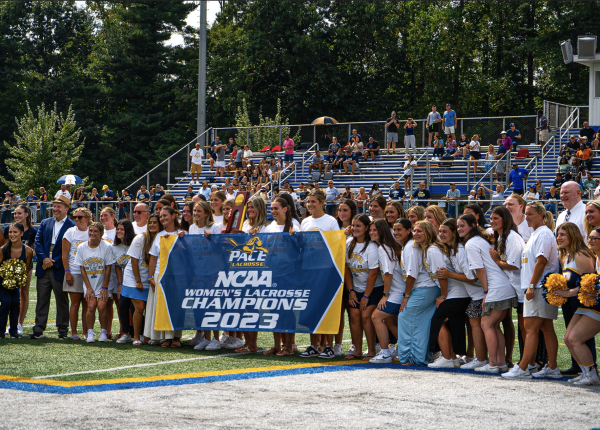 With possession to begin the second, Findlay ran for six more. Bornhurst rushed in for 4 yards to put his team up two scores. On Pace's first drive of quarter two, Lopez committed another delay of game penalty. He dropped a ball to senior Teddy Harper for 21 and a first but the drive would die there. Three straight rushing attempts killed it there and forced another Setter punt. The Oilers would once again add to their score. Bornhurst got 25 yards on a pass into Pace territory. Their kicker made it 17-0 after the drive stalled. Pace froze again punting once more to Findlay. The Setters get it back on an interception in the endzone by Elliot Porter in the endzone. It would not leave the endzone as the Oilers capitalize on field position getting a safety for 2 more. Pace finally gets on the board with the leg of junior kicker Dylan Squillacioti. At half, the Oilers were ahead 19-3.
Anthony Holmes the sophomore cornerback for Pace picked off Bensonhurst to close Findlay's inaugural drive of the second half. Pace would inch into Oiler territory for more but come up empty. Findlay in possession ran it back the other 52 yards first play. On a field goal attempt, Anthony Robinson blocks the kick allowing Porter to recover and return it to narrow this game's score to 19-10. Findlay answered with a passing TD before both offenses went cold to finish the 3rd. Pace would get close in the 4th. A two-point conversion would go their way but not the ensuing onside kick. Findlay's lead was insurmountable, enough to keep the hosts at bay.
The Setters play at home again next Saturday, September 16 to open NE-10 play vs Franklin Pierce University. Kick off is at 12 pm. In conjunction, for Football Alumni Game there will be a ceremony to honor those who took the field in blue and gold in the past.